Patients With HCV To Be Considered for Lung Transplant
Published
January 29, 2018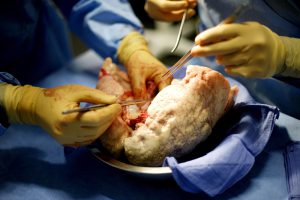 Duke pulmonologists are exploring an expansion of lung transplantation for individuals with chronic hepatitis C virus (HCV) infection, a change that introduces the possibility of using donor organs with HCV as well. The presence of the infection has long been considered a contraindication for the procedure.
Liver and kidney transplants involving HCV donors and recipients have become more common as antiviral therapies have improved, but the high immunosuppressant dosage required for lung transplant has hindered consideration of the procedure.
Alice L. Gray, MD, a Duke pulmonologist leading a study offering lung transplant to individuals with end-stage lung disease and HCV says the pace of procedures may increase as a result of the trial at Duke's Pulmonary Transplant Clinic. Eligible participants will receive curative treatment for HCV following their transplant.
"We believe this trial will allow us to increase access to lung transplant by making it feasible to help this population safely and efficiently," says Gray, who will identify 10 patients for the trial within 3 years. "These patients can undergo transplant from a donor with or without HCV, and after the transplant, we will use antivirals to clear the infection."
Once post-surgical patients are clinically stable, they will begin a single daily oral medication for 3 months. The medication is a fixed-dose combination of sofosbuvir and velpatasvir, which is effective against all HCV genotypes.
Patients with HCV who are candidates for the procedure must undergo a normal evaluation for lung transplant, Gray says. Because of the risks associated with HCV, the liver will be examined more thoroughly. But Gray emphasizes that the team's objective is to identify patients promptly and initiate the trial.
"We will be executing the trial in a controlled fashion, under the oversight of the Duke Institutional Review Board, so that we can determine conclusively whether this is a safe and effective strategy," Gray says. "Our long-term goal is to increase the number of life-saving transplants across the nation by expanding the utilization of donors to include those with HCV," Gray says.
Demonstrating that HCV donors can be safely used in lung transplant recipients will benefit those in urgent need of transplant, Gray says, while increasing the donor pool for others in the future.
According to the United Network for Organ Sharing (UNOS), 1,368 candidates are awaiting lung transplant in the United States. Between January 1988 and November 30, 2017, UNOS reports that 35,606 lung transplants have been performed.