Patient's Age, Family History Offer Clues to Rare Diagnosis
Published
September 25, 2017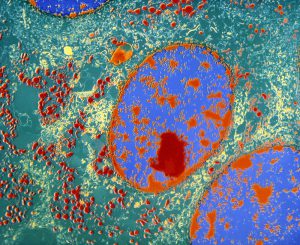 A 39-year-old woman experiencing recurrent abdominal pain was referred to an endocrinologist by her primary care physician after she reported a family history of neuroendocrine tumors. The patient's father had undergone surgery to remove neuroendocrine tumors, so the patient was aware of a potential genetic condition.
Laboratory tests revealed elevated calcium and parathyroid hormone levels. She was immediately referred to Julie Ann Sosa, MD, chief of endocrine surgery and leader of the Endocrine Neoplasia Diseases Group at the Duke Cancer Institute and the Duke Clinical Research Institute.
Questions: What actions did Sosa and her team take to reach a diagnosis? What treatment strategies were recommended?

Answers: After further tests and a detailed review of the patient's family history, Sosa diagnosed her with multiple endocrine neoplasia type 1 (MEN 1; also known as Wermer syndrome) with evidence of primary hyperparathyroidism and metastatic pancreatic neuroendocrine tumors. She recommended prompt surgery to remove the pancreatic tumors before beginning treatment of primary hyperparathyroidism, which was caused by the MEN1 mutation.
"This was an exceptionally rare and complicated case," Sosa says. "It's essential that endocrinologists are aware of the potential course of this disease because of the risk of progression of the pancreatic malignancy and the challenges of the unique surgical approaches required."
She continues: "The clinical lessons here come from the constellation of factors—family history, hyperparathyroidism, and a patient younger than 40 years. We've all read about cases like this in medical school, but few endocrinologists and surgeons actually see them frequently in clinical practice."
Recent research has provided more specificity regarding MEN1, Sosa says. When a mutation of MEN1, which is a rare, inherited gene, is suspected, genetic testing and counseling are essential. Unfortunately, the genetic test is imperfect. MEN 1 should be suspected in patients with endocrinopathy of 2 of the 3 characteristically affected organs or with endocrinopathy of 1 of the organs plus a first-degree relative affected by the syndrome, as was the case in this patient.
Several months following Sosa's assessment with guidelines-based screening, the patient underwent minimally invasive pancreaticoduodenectomy (also known as Whipple procedure) performed by Sabino Zani, MD, a Duke surgical oncologist. The patient fully recovered after a challenging postsurgical course.
Approximately 1 year later, Sosa removed 3.5 parathyroid glands during sub–total parathyroidectomy and transcervical thymectomy; the latter procedure was performed for a possible thymic carcinoid, which is occasionally seen in MEN 1. Tissue from a single gland was cryopreserved at the Carolinas Cord Blood Bank at Duke in the event that the patient later requires that a parathyroid gland be implanted. Duke is one of few medical centers offering cryopreservation of the parathyroid gland.
In cases where total parathyroidectomy is performed, parathyroid tissue is immediately reimplanted into a patient's arm to preserve function, but Sosa preferred to leave a portion of a gland in the neck. If the transplanted tissue fails following full resection, the patient could require calcium and vitamin D supplements every 4 to 6 hours, and her quality of life could be compromised.
Parathyroidectomy for MEN 1 is more challenging than that typically performed for sporadic primary hyperparathyroidism, in that the underlying cause of the disease is 4-gland hyperplasia rather than parathyroid adenoma.
Typically, patients with MEN 1 initially present with primary hyperparathyroidism, oftentimes at a young age; it occurs in more than 90% of patients with the syndrome. They also can develop pancreatic neuroendocrine tumors (and sometimes of the small bowel) as well as anterior pituitary tumors (often prolactin-secreting lesions). A pituitary tumor was not identified in this patient, but Sosa did remove an ectopic parathyroid gland from within the patient's left thyroid lobe.
"She has recovered well from both procedures but will require lifelong surveillance for potential progression of her metastatic tumors, for possible recurrence of her primary hyperparathyroidism, and for the potential development of a pituitary tumor," Sosa says.