Patient Preference Growing for Hemodialysis at Home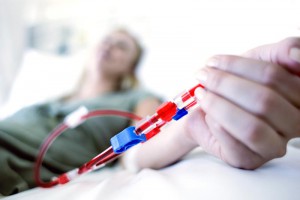 Duke Health's home hemodialysis (HHD) program is producing favorable outcomes, rapidly expanding, and garnering praise from patients who prefer their independence from rigid, in-center dialysis schedules.
HHD has become the dialysis modality of choice for many patients, says Ruediger Lehrich, MD, director of Duke Health's home dialysis program. But, he says, many physicians are unaware of the option. In fact, only 15% of US patients requiring dialysis receive home-suitable dialysis—and, of those cases, the majority is receiving peritoneal dialysis. 
Although large randomized studies comparing HHD and in-center dialysis have not yet been conducted, smaller studies report better results in patients receiving HHD compared with their counterparts. The bulk of surrogate data indicates that HHD is superior when compared with dialysis performed at a health care facility, Lehrich explains.
"In part, HHD is producing better outcomes because of the improved schedule," says Lehrich. "To dialyze more frequently in the convenient environment of the home allows us to more closely reproduce real kidney function."
In addition, patients who travel to centers skip dialysis 4 days each week, so waste and fluid build up, whereas those who receive HHD dialyze 5 to 6 times per week using shorter treatments (Figure).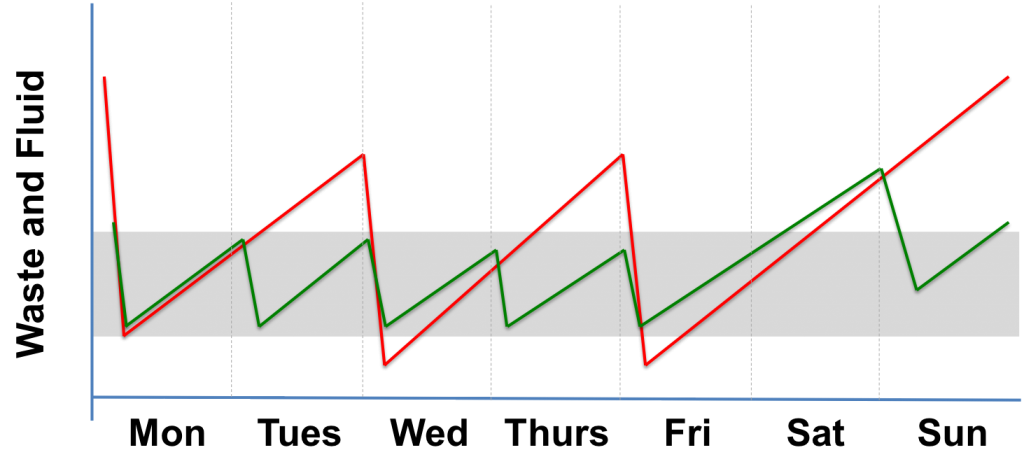 FIGURE. Illustration of the lower volume of waste and fluid buildup in patients receiving hemodialysis at home (green) vs patients receiving hemodialysis at a health care facility (red)

Patients accustomed to 3 weekly visits to a dialysis center, where they spend 4 to 5 hours at a time, view HHD as a significant quality of life improvement. In addition, they report more energy, fewer bouts of nausea, and improved sleep. Many can also enjoy traveling while being proactive about their health.
HHD became feasible in 2006 as more portable, patient-friendly technology was introduced. Duke Health launched its program soon after in 2008, and patient demand, as well as logistical and clinical improvements, allowed the HHD program to expand.
Although fewer than 20 of the 700 patients in Duke's dialysis practice undergo HHD, Lehrich says the home option is quickly growing. "Individuals who seek this option feel empowered and want to control their care while pursuing an active lifestyle."
Preparing patients to use HHD requires 4 to 5 weeks of daily training that can last up to 6 hours per session. Specialized nurses work closely with patients to assess safety and feasibility prior to allowing a patient to independently perform HHD.
Typical candidates for HHD are active, compliant with treatment, and motivated to preserve their professional career. However, some patients requiring dialysis who have comorbidities may prefer the in-home option because the treatment is gentler and eliminates the stress of traveling to the dialysis clinic. 
HHD will never be a solution for all patients with end-stage kidney disease, Lehrich notes. Although some people view dialysis as a burden and do not want to take the disease process home, increasing numbers of patients desire the independence and flexibility HHD provides, he adds.