For a decade, ankle arthritis had made walking painful for a 57-year-old man who enjoyed an active lifestyle. He tried a host of conservative treatments—including bracing, activity modification, injections, and a surgery to remove bone spurs—but he ultimately sought additional treatment for the continued pain that limited his mobility.
His community provider suggested ankle fusion surgery as an option, but ultimately recommended the patient seek a second opinion at Duke Orthopaedics, one of the largest centers for ankle replacement in the nation. Karl M. Schweitzer Jr., MD, a foot and ankle orthopaedic surgeon at Duke Orthopaedics of Raleigh and Duke Raleigh Hospital, helped the patient weigh all of his options and presented a different solution.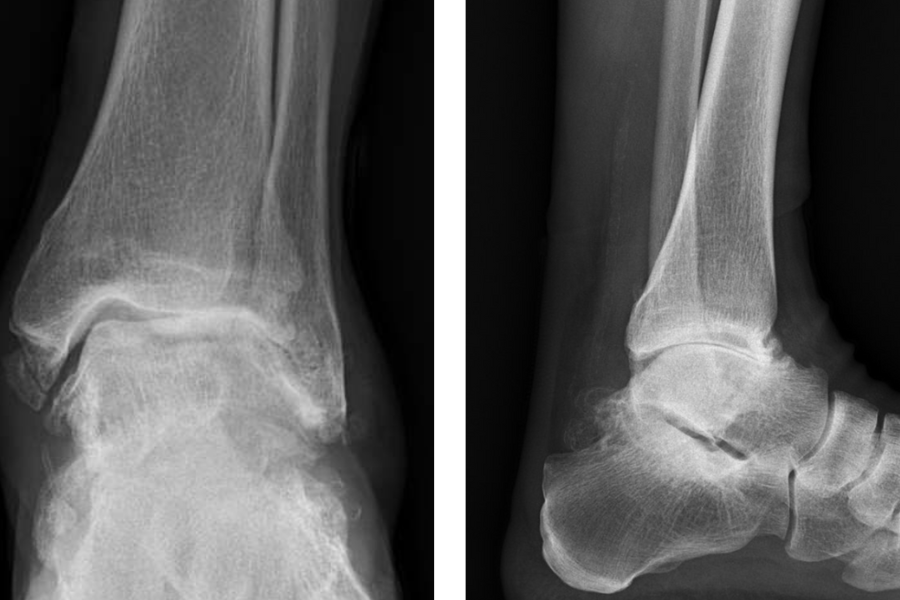 Question: What approach did Schweitzer recommend for the patient and why? 
Answer: Using pre-operative CT navigation and patient-specific 3D guides, Schweitzer planned out and performed an ankle replacement surgery to enable the patient to maintain his range of motion for his active lifestyle and relieve the pain. He notes that the functional outcomes are slightly better for patients with ankle replacement compared with fusion due in part to the maintenance of motion through the ankle, which tends to be more natural for the patient; it does not overwork nearby joints but rather enhances their functionality.  
"Both options provide equivalent pain relief, but with this patient's age and motivation to keep skiing and playing pickleball, I thought he would benefit more from an ankle replacement compared to fusion," he says.
Schweitzer performs 60% to 70% of the ankle replacements he does using the pre-operative CT guidance, which requires a special CT scan with imaging from the foot through the knee, which provides the patient's overall lower limb alignment axes for planning the proper implant placement and alignment. This pre-operative planning process also allows for more detailed assessment of the patient's anatomy, bone quality, and other factors that allow for better implant selection, sizing, alignment, and placement.
Once all of those determinations are made, patient-specific 3D guides that are mapped to the patient's native anatomy are manufactured and then sterilized for use intra-operatively. These guides are ultimately pinned onto the patient's ankle, which effectively translates the extensive, pre-operative planning process to the patient. Once these guides are properly placed onto the patient using a series of wires, they are then exchanged for cut guides to perform the bone resection needed to perform the ankle replacement.
"The more planning you can do as a surgeon before you get the patient to the OR, the better the overall outcome for the patient," says Schweitzer.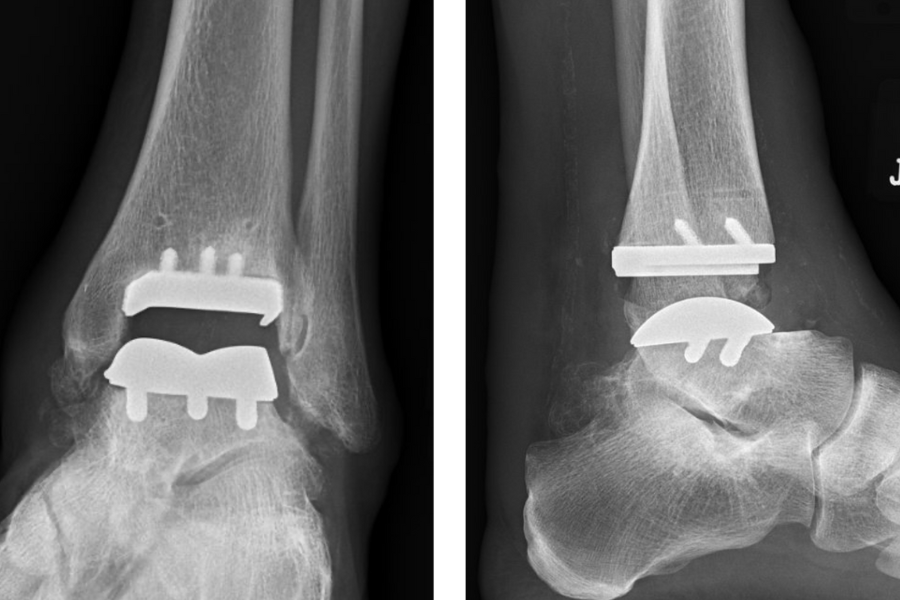 Ankle replacement surgery is not for all-comers, however. Some patients may still benefit from a less-invasive option. For patients who do not meet certain indications for ankle replacement, fusion may be offered.
"We are doing fewer and fewer fusions every year across the board," says Schweitzer, who has performed more than 500 ankle replacement surgeries in his career. Despite all of the technological advances, Schweitzer acknowledges that the decision-making process for those managing painful ankle arthritis still comes down to an old-fashioned conversation with the patient.
"Getting to meet these patients, listening to them, understanding what they want to get back to doing, discussing their options, and then watching them accomplish their goals—that is the best part of what I have the privilege to do every day," says Schweitzer. 
Although ankle replacement significantly improves joint mobility for patients with severe arthritis, Schweizer notes that patients may still have a compensatory gait initially after surgery, something that they developed overtime from longstanding arthritis. "This is where postoperative physical therapy can play a key role in the patient's recovery process: teaching them how to walk properly, now that their ankle joint no longer hurts," he says.
As part of this patient's recovery, Schweitzer recommended regular physical therapy sessions to help retrain his brain and lower extremity muscles to move more naturally. Three months after the surgical procedure, the patient was walking three to five miles a day, followed shortly by his return to pickleball and skiing.
Refer a Patient
To refer a patient to Duke Orthopaedics, log in to Duke MedLink or call 800-633-3853.