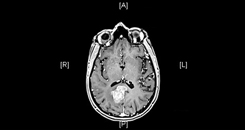 Figure 1a) MRI of lesion in right parietal lobe
After having difficulties with balance, a 55-year-old woman from New York was diagnosed with advanced lung cancer that had metastasized to her brain. She had two large lesions (Figure 1)—one deep in her right parietal lobe and one in her left motor strip (precentral gyrus), which was responsible for her loss of strength in her right leg. The diagnosing oncologist told her that the lesions were inoperable and that she likely had only weeks to live.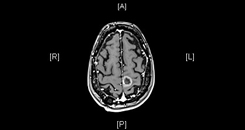 Figure 1b) MRI of lesion in precentral gyrus
Unwilling to give up, the patient consulted her network of family and friends to find a surgeon who might be willing to operate. She was pointed toward the Duke Brain and Spine Metastasis Center.
Question: How was she treated, and what was her outcome?
Answer: The patient underwent two minimally invasive craniotomies for trans-sulcal resection of the lesions through a tubular retractor system followed by postoperative stereotactic radiosurgery (SRS). Nearly a year later, the patient has had no recurrence of the brain metastases, and the lung cancer remains stable.
Duke neurosurgeon Peter Fecci, MD, PhD credits the patient's successful outcome to his access to advanced surgical and neuromonitoring techniques as well as the expertise of the multidisciplinary team involved with her care.
"I would love to say it's just because I'm a good surgeon," he says, "but there are a lot of factors that contribute to our ability to treat tumors that may be deemed inoperable at other places. I think it's a combination of not only having advanced technologies but also the experts—in neuromonitoring, for example—who help us to use these technologies to make surgery safer."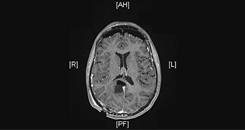 Figure 2a) MRI showing successful resection of lesion in right parietal lobe
Prior to surgery, Fecci used MRI with diffusion tensor imaging to plan his approach. He then worked closely during the surgery with a neuromonitoring team who performed intraoperative cortical and subcortical white matter mapping. Fecci says both the pre and intraoperative imaging and monitoring were critical for enabling him to minimize damage to the surrounding tissues during surgery.
Another important component of the patient's care, Fecci explains, was the careful and efficient coordination of care between all of the specialists the patient would need to see. She underwent SRS with a radiation oncologist immediately following the surgery, and, soon after, consulted with a medical oncologist to develop a treatment plan for the primary lung cancer. All of these appointments were efficiently coordinated through the center.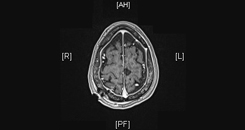 Figure 2b) MRI showing successful resection of lesion precentral gyrus
Post-surgery MRI revealed that both lesions had been successfully resected (Figure 2). However, the patient was still experiencing some weakness in her leg, which was anticipated. By just a few months post-surgery, she had regained her strength and was back to her normal activities. She continues now to lead a normal life and is followed closely by the team, who monitors for recurrence.
This case is a good illustration of Duke's unique approach to brain metastasis, Fecci notes. "There are still a lot of places that give up on these patients," he says. "They might think, 'We could try surgery, but we might hurt the patient if we're too aggressive.' But I think because we've begun to focus specifically on patients with brain metastasis, we're creating our own unique approaches, attitudes, and therapies that are more and more successful against these tumors."
In addition, he says, whereas in the past, many clinical trials excluded patients with brain metastasis, the center is now recruiting for clinical trials that explicitly offer novel treatments for these patients.