For children born with a cleft lip and palate, a non-invasive pre-surgical intervention provides the best results and reduces the number of surgeries needed—and Duke Health is the only health system in North Carolina to offer it.

The nasoalveolar molding (NAM) orthopedic device brings the sides of a cleft lip and palate together slowly over several weeks. It allows the surgeon to correct the lip, nose, and gums in one surgery.

"In standard treatment, it's not unusual for a child to have 10 to 12 surgeries before the age of 12," says Jeffery R. Marcus, MD, pediatric plastic and reconstructive surgeon. "Of all the surgical innovations, NAM is the only one we've seen that actually makes a difference. It levels the playing field for all children regardless of the severity of the cleft that they were born with. Previously, the ones that had the least severe clefts got the best results, and the ones that had the most severe clefts often had worse results."

The NAM device aligns the sides of the face, providing better esthetic results in the fewest number of surgeries.
Image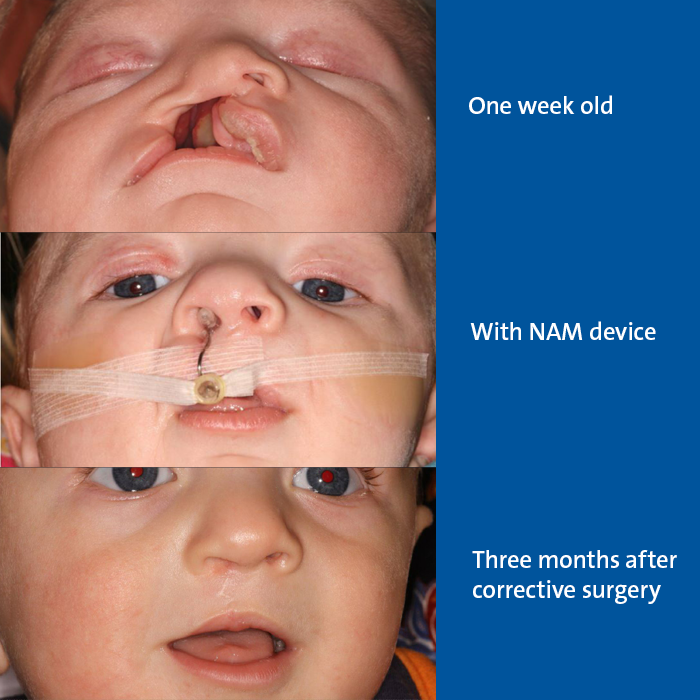 When to Refer
When a cleft is detected on a fetal ultrasound, a physician should consider a referral to Duke as soon as possible. Prenatal consultations can help parents prepare and know what to expect.
For referrals and questions regarding patients with cleft lip or palate, including prenatal consultation, contact the Duke CleftLine at 919-684-3815.
Treatment Process
Patients should begin treatment as soon as possible, says Pedro E. Santiago, DMD, MBA, a craniofacial orthodontist who was one of the developers of the device. "We usually start during the first week of life," Santiago says. "Biologically, we only have the first six months to do this."

During the first visit, Santiago's team takes an impression of the infant's mouth to create the custom device and instructs the parents on how to care for it. Follow-up visits are required every week or two, with the NAM device reducing the cleft by two to three millimeters between visits.

A unilateral cleft will improve over about three months, whereas a bilateral cleft takes about five months. "The device also molds the nose to give it a more natural look, because otherwise the nose can be distorted," Santiago says.

Once the NAM device has brought the sides into alignment, Marcus or his colleague Alexander C. Allori, MD, MPH, performs the corrective surgery. "It is probably the most personally rewarding procedure a surgeon can do because of the satisfaction of helping these kids for a lifetime," Marcus says.

Follow-up for these patients may last years, and Duke offers comprehensive care throughout, including the support of speech pathologists and connections to other families that have been through the process.