Opioid Safety Initiative Engages Physicians, Patients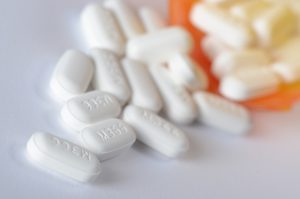 An opioid safety initiative adopted by Duke Health establishes a new standard of care to eliminate unnecessary prescriptions, monitor patient opioid use, and reduce rates of opioid-related morbidity.
Lawrence Greenblatt, MD, leader of the Duke Opioid Safety Task Force, is presenting the action plan to specialties during grand rounds across Duke University Health System.
"My message to the physician community is that we have an obligation to protect our communities from the risk of opioid addiction and related death," Greenblatt says. "This is a system problem, and we need a system-based solution."
In particular, North Carolina faces an increasing opioid challenge. "After a short decline, we are again seeing high levels of death from prescription drug overdose in North Carolina," he says, noting that heroin, fentanyl, and other illicit drugs contribute to the overall opioid-related mortality rate.
As medical director of Northern Piedmont Community Care, a Duke Health Medicaid care management network, Greenblatt began to notice an increase in overdoses and abuse issues more than 5 years ago.
"Frankly, there seemed to be little oversight," he remembers. "We were getting a lot of Medicaid patients in the emergency department with multiple opioid prescriptions—many were overprescribed."
After taking his concerns to the Duke Medication Safety Committee, Greenblatt was asked to create the Duke Opioid Safety Task Force and develop an action plan to guide clinicians. The recommendations include:
Stipulate specific procedures for prescribing opioids within the health system
Make an effort to "right-size" prescriptions
Encourage prescribers to review patient records in the North Carolina Controlled Substances Reporting System Database, which tracks opioid prescriptions within the state
Prepare a written pain-management agreement between physicians and patients clarifying that patients may not receive opioids from another physician or share them with others
Engage patients to assess addiction risks, asking them about lifestyle patterns (eg, driving habits)
Prescribe naloxone injection for home use in the event of overdose

Encourage families to recognize an overdose, use naloxone effectively, and call emergency medical services
"Many people are very committed and work diligently to help Duke become a great model for other health systems," he says. "We have a broad multidisciplinary team, and we've come a long way." Greenblatt says he hopes the Duke model can be applied to other institutions.
The North Carolina Medical Board requires 3 hours of medical education for all prescribers of controlled substances. The Opioid Safety Committee will ensure that this training is readily available online and in person—an example of the system's proactive approach, Greenblatt says.
As a result of the initiative, other preventive steps are being launched. Several departments, including general surgery and orthopaedics, are exploring tools to provide better guidance regarding quantities of postoperative pain medications.
"We found that many prescriptions simply provided too many pills," Greenblatt says. "The medication was not destroyed but eventually could be shared with family and friends."