Obvious Proptosis of the Left Eye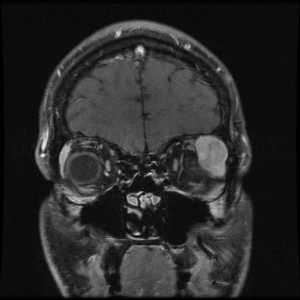 FIGURE. Repeat T1-weighted coronal MRI
A 29-year-old man developed a dull ache around his left eye that slowly worsened during a 1-week period. After he noticed decreased vision in the left eye, he went to the emergency department.
Computed tomography and magnetic resonance imaging (MRI) revealed a lesion in his left orbit believed to be inflammatory in nature.
Although the results of blood tests found no underlying systemic inflammation, he was given a dose of intravenous steroids and discharged on oral prednisone with a diagnosis of nonspecific orbital inflammatory syndrome.
At a follow-up appointment 2 weeks later with M. Tariq Bhatti, MD, a neuro-ophthalmologist at the Duke Eye Center, the patient had obvious proptosis of the left eye with continued decreased vision. Repeat MRI showed no change in the lesion involving the upper left quadrant of the orbit (Figure).
Concerned that the steroids had had no effect on the presumed inflammation, Bhatti recommended biopsy. The pathology report revealed adenoid cystic carcinoma of the lacrimal gland, a rare cancer with a 5-year survival rate of 20% to 30% if left untreated.
Question: What treatment was recommended?
Answer: The treatment regimen Bhatti recommended involved intra-arterial chemotherapy, orbital exenteration, radiation, and systemic chemotherapy.
Confronted by this rare and life-threatening cancer, Bhatti reviewed the literature for the most recent, cutting-edge treatment protocol. The protocol required him to create a multispecialist team, which included an interventional neuroradiologist, medical oncologist, and radiation oncologist, to work with him and the patient. 
The treatment began in February 2015 with 2 rounds of intra-arterial chemotherapy, in which a catheter was threaded from the patient's groin to deliver chemotherapy as close to the lacrimal gland as possible. Orbital exenteration was performed the following April.
The patient then underwent 2 months of radiation starting in May 2015. In July, he began several rounds of systemic chemotherapy, which were well tolerated and then finished in October.
At this early stage, the patient appears to be free of cancer and is doing well. Following intra-arterial chemotherapy, he developed left facial nerve palsy, but that complication has been slowly improving over time. Although it is too soon to know his long-term outlook, he has hope for the future: He is now the proud father of a baby girl.
Given the aggressiveness of head and neck cancers and lack of clinical experience with such a rare form of cancer, the treatment employed every possible line of local and systemic attack. It required coordination between various subspecialties to tailor a protocol that none of the physicians had ever used. "We had to develop a team of 4 subspecialists to do something that we had never done at Duke before," says Bhatti.
"We have diagnosed people with this type of lacrimal gland cancer in the past, but this is the first time that we recommended this type of protocol—combining biopsy, intra-arterial chemotherapy, surgery, radiation, and systemic chemotherapy," he explains.
What made the approach work was the availability of the subspecialists and the teamwork that permeates the Duke culture, which makes cooperation and coordination of complex schedules a normal part of doing business.