Obesity and Sleep Apnea Trigger Dyspnea and Fatigue
Published
October 11, 2016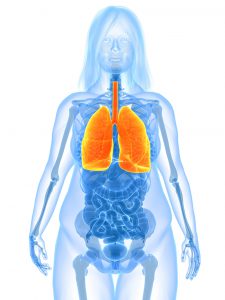 A 52-year-old severely obese woman was referred by her primary care physician to Duke cardiologist Terry A. Fortin, MD, after weeks of sleeplessness and fatigue. Because of her severe dyspnea, the patient was dependent on portable oxygen when walking even short distances.
The patient's height was 5 feet 3 inches and she weighed 379 pounds. She had ceased all but the most essential physical activities.
Questions: What was the suspected diagnosis? What therapies were recommended to address the patient's weight and shortness of breath?
Answers: Findings on echocardiography indicated potential left-sided heart failure, and the work-up revealed hypoxemia. Fortin suspected pulmonary hypertension exacerbated by obstructive sleep apnea and obesity. She recommended that the patient's pulmonary conditions be addressed prior to assessing her heart failure and referred her to the Duke Pulmonary Rehabilitation Center to manage the patient's dyspnea, help her lose weight, and increase her level of physical activity.
Following a series of pulmonary function tests, the patient began monitored daily workouts. Although she was initially fearful of using an exercise bicycle, the patient was gradually eased into a consistent routine.
"We often see resistance at the beginning of the rehab program from newly referred patients," says Neil R. MacIntyre, MD, medical director of the Duke Pulmonary Rehabilitation Center. "Many patients have not been physically capable of being active for long periods or they've been afraid to begin an exercise program on their own."
A team that included a pulmonologist and respiratory and physical therapists persuaded the patient to increase her activity in stages. After starting with a few cautious steps, the patient was riding an exercise bicycle and walking several laps by the end of week 1. During week 2, the duration and intensity of her workouts improved. As she advanced through the 4-week program, she lost a significant amount of weight and reduced her dependence on portable oxygen.
The patient demonstrated dramatic improvement in all categories measured by the rehabilitation center: Her score on the Center for Epidemiologic Studies–Depression survey improved from 51 to 9, her Quality of Life Index rose from 11.56 to 21.73, and her Shortness of Breath Questionnaire score was reduced from 64 to 36. The patient's 6-minute walking distance increased from 852 to 1,584 feet.
The patient significantly reduced her risk factors during the rehabilitation program, says MacIntyre. "The best part of this outcome was that the programmed exercises sparked her motivation," he says. "She's coming back on her own to keep the workouts going."
"She had a fabulous outcome in pulmonary rehab," agrees Fortin. "The weight loss and the improved activity level will allow us to fully diagnose and treat her underlying cardiovascular conditions."
A catheterization procedure has now been scheduled to establish a definitive cardiac diagnosis.
The patient's successful experience is typical for the Duke Pulmonary Rehabilitation Center, MacIntyre explains. Approximately 20 patients are referred each month to begin a new pulmonary rehabilitation class. Chronic obstructive pulmonary disease and chronic lung disease are the most common reasons for referral, says MacIntyre, although the team encounters conditions ranging from cystic fibrosis to lung transplantation preparation or recovery.