A Nutrition and Aging Laboratory Explores Innovations in Preserving Lean Muscle
Published
February 14, 2017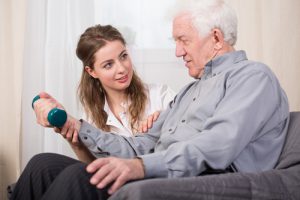 A nutrition laboratory at the Duke Center for Aging is leading new research on preserving lean muscle in obese and frail older adults during weight loss by studying the effects of protein supplements in 3 monitored trials.
During the 3 studies examining the value of protein-enhanced diets, researchers investigated the effects of reduced caloric intake along with dietary protein provided from high-quality sources (pork, lean beef, and dairy) in reducing obesity in older adults while preserving strength through lean muscle retention.
"A long-term concern about weight loss among older patients has been the risk of muscle strength loss and the development of dynapenic or sarcopenic obesity," says co-principal investigator of the studies, Kathryn Starr, PhD, a registered dietitian and co-director of the laboratory along with Connie Bales, PhD, co-principal investigator.
"These studies represent the first time we've provided protein sources to older participants on weight-loss diets and monitored the impact on muscle function and strength," Starr says.
When the final trial concludes at the end of 2017, approximately 200 individuals will have participated in these randomized studies. To qualify, participants must have a body mass index of at least 30 kg/m2, which represents an obesity level that limits physical function.
Starr and other researchers in the Bales Starr Nutrition Laboratory of the Geriatric Division published results from the first study in the October 2016 issue of the Journal of Gerontology: Medical Sciences. The trial, called Measuring, Eating, Activity and Strength: Understanding the Response-Using Protein (MEASUR-UP), offered lean beef as a nutritional supplement to men and women 60 years of age or older (NCT01715753).
The 6-month program used measurements from the BOD POD (COSMED, Rome, Italy), a short physical performance battery, and chair stands. Data on gait, speed, balance, and lower body strength were also recorded.
"The most important point is that we still do not have definitive, clear guidelines or recommendations for weight loss for obese older adults," says Starr. "But our first trial indicated that when we provide protein supplements in this context, we see measurable, functional improvements."
The studies have revealed no risk to participants, Starr says, so the research continues. "The innovation is that we provide the protein servings to the participants, ask them to create food logs, and engage our dietitians and research assistants to monitor progress," she says.
The other studies are as follows:
Protein Optimization in Women Enables Results-Using Protein (POWR-UP): This study assessed the functional status and lean muscle mass retention of frail, obese women after combining a regular, generous intake of high-quality protein—primarily from lean pork—with caloric intake regulations. The high-protein, weight-loss treatment was designed to improve muscle mass and functional status in these women. A 6-minute walk test—measuring gait, speed, and endurance—was used to develop metrics. The results of the 2-year study, which ended in 2016, are being prepared for publication.
Dairy in the Diet Yields New Approaches for Muscle Optimization (DDYNAMO): In this study, dairy protein helps researchers examine enhanced protein weight loss in participants with dynapenic obesity. Researchers are examining the effects on obese, frail men and women aged 60 years and older. The study will conclude at the end of 2017.
The studies reflect the emerging research presence of Duke in the field of geriatric nutrition. A well-known geriatric nutrition scientist, Bales shepherded the creation of the laboratory and originated the idea of testing meal-enhanced protein in older adults during weight loss.