Novel Therapy for Refractory Lung Cancer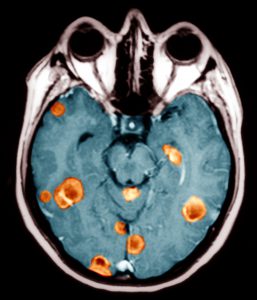 After a 40-year-old never-smoker developed seizures, she was found to have EGFR T790M mutation-positive non–small-cell lung cancer (NSCLC) that had metastasized to her brain. The brain metastases were treated with radiotherapy, and she was prescribed oral erlotinib. Initially, the tumors responded to the therapy, but, after 2 years, the disease progressed.
She developed more seizures from the growing brain metastases and was treated with the maximum dose of radiation. Although her seizures were successfully controlled with medication, little could be done to control the metastasis.
The patient considered undergoing chemotherapy, but chemotherapy is rarely effective against brain metastasis. She decided to seek other options.
Question: What new molecular agent did the patient receive?
Answer: The patient was started on osimertinib, an oral inhibitor of epidermal growth factor receptor, for patients with metastatic EGFR T790M mutation-positive NSCLC.
After learning about a multicenter clinical trial enrolling patients with metastatic NSCLC, the patient traveled to the Duke Cancer Institute to seek participation in the study.
Duke Cancer Institute oncologist Neal Ready, MD, says that the new molecular therapy had been extensively covered by the medical media and was highly anticipated as the "silver bullet" for patients with NSCLC and the EGFR T790M mutation.
"When the patient came to Duke in mid-2014, there were already data coming out that this new generation of oral medication was going to be the best treatment for this type of cancer, but you could only get it through a clinical trial," Ready says. "Patients were coming to us from all over, hoping to be enrolled in the AURA2 clinical trial (NCT02094261)."
Findings on mediastinoscopy with biopsy revealed that the patient's tumor had the EGFR T790M mutation required for trial eligibility. Ready placed her on the new oral molecular therapy, and the tumors in her brain and lungs began to shrink. She also stopped experiencing seizures.
Since starting the therapy nearly 2 years ago, she has experienced few adverse effects, and she is in partial remission.
"That's not a guarantee as to what the cancer will be doing 6 or 12 months from now," Ready cautions. "But she's done very well. Clearly getting to Duke and going on this trial changed her life and the life of her husband and children."
Data from the clinical trial led the US Food and Drug Administration to grant osimertinib accelerated approval in November 2015.
"As one of only a small number of institutions given access to the drug, Duke had the opportunity to play a role in the approval of a medication that serves as an important new option for people with lung cancer," notes Ready. "The drug is already making a difference in peoples' lives in a major way," he adds.