Noninvasive Treatment for Prostate Cancer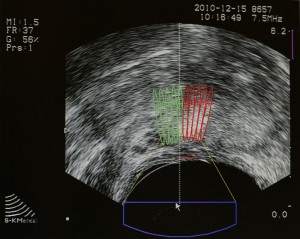 A healthy 62-year-old man with a 22.5-cc prostate was referred to his local hospital after his blood test results demonstrated a slowly increasing prostate-specific antigen level of 4.5 ng/mL.
At the hospital, results on biopsy revealed prostate cancer and a possible need for radiotherapy or radical prostatectomy. Because the patient desired a less-invasive alternative, he consulted Cary Robertson, MD, a urologic oncologist in the Division of Urology at Duke Health.
Question: What noninvasive procedure did Robertson recommend to the patient?
Answer: The patient was recommended high-intensity focused ultrasonography (HIFU). HIFU was used to successfully treat this patient's prostate cancer while also preserving his urinary and sexual function.
At the time, Robertson was enrolling patients in a clinical trial examining the effectiveness of HIFU in low-grade, low-risk prostate cancer. The patient qualified for the trial because he had a small-sized prostate with localized, low-grade cancer.
Similar to surgery, the patient was required to use a urethral catheter for 2 weeks following the procedure.
"The advantage of HIFU," Robertson says, "is its ambulatory nature. It is less invasive than surgery and more convenient than radiotherapy. Patients are treated and discharged the same day, and they have minimal pain."
At his follow-up visit 3 months later, the patient's prostate-specific antigen level had declined to 0.1 ng/mL.
Repeat prostate biopsy, which was performed 2 years after the initial procedure as part of the clinical trial, showed that the cancer had been successfully treated. The size of the patient's prostate had also decreased to 5 cc, a direct result of HIFU that Robertson feels will be beneficial for men who need additional treatments with HIFU or supplemental therapies.
Eight years after treatment, the patient remains extremely pleased with the result. On the patient's most recent visit, Robertson reports that he had not developed urinary incontinence or sexual dysfunction and was maintaining a good quality of life.
"If the patient came in today, active surveillance would probably be chosen over immediate treatment for low-grade disease because of the potential morbidity of treatment," he explains.
However, Robertson notes, approximately one-third of patients not initially treated for low-grade prostate cancer eventually do undergo definitive therapy either because the tumor grows or the patient prefers to be treated. He adds, "Not treating a prostate in a patient at age 62 years may be just a delaying tactic. It's safe to say that HIFU likely had a beneficial effect on this patient."
In October 2015, 2 HIFU devices received approval from the US Food and Drug Administration for prostate tissue ablation.
Robertson estimates that about 10% of men with prostate cancer might be good candidates for HIFU. Ongoing research, he says, will continue to focus on modifying the technique so it can be used to focally treat smaller parts of the prostate and, therefore, more patients.