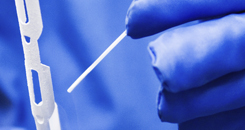 Frozen embryo transfer for in vitro fertilization (IVF) is associated with improved pregnancy rates but only in high responders (15+ oocytes retrieved), according to new research published in August 2018 in Fertility and Sterility. Low and intermediate responders (1-5 and 6-14 oocytes, respectively) in the study had lower clinical pregnancy and live birth rates following frozen versus fresh embryo transfer, suggesting that the "freeze-all" strategy adopted by some U.S. IVF programs is not beneficial for all patients.
Adoption of the freeze-all approach has been driven by concerns about endometrial receptivity when embryo transfer is performed in the same cycle as ovarian stimulation, explains the study's senior author, Suheil Muasher, MD, a reproductive endocrinology and infertility specialist at Duke. However, studies examining the evidence for such an approach have had conflicting findings.
Some research has shown that frozen embryo transfers are associated with decreased risk of low birth weight and preterm delivery, lower ovarian hyperstimulation syndrome rates, and lower spontaneous abortion. But the patients included in these analyses are not representative of the overall population receiving IVF, notes the study's first author, Kelly Acharya, MD, a fellow in Duke's Department of Reproductive Endocrinology and Infertility. The majority of study patients were high responders, she explains, whereas overall, only approximately 30 percent of IVF cycles result in retrieval of 15 or more eggs.
The new study is the first to use U.S. national data to compare first fresh IVF cycles with first frozen embryo transfer cycles following IVF stimulation in low, intermediate, and high responders.
To assess patient outcomes, investigators used the most recent data available from the Society for Assisted Reproductive Technology Registry (2014-2015) on autologous first fresh IVF cycles (69,102 patients) and autologous first freeze-all cycles (13,833 cycles). Cycles were subdivided into three groups based on number of oocytes retrieved: low, intermediate, and high responders. Primary outcomes included clinical pregnancy rate, miscarriage rate, live birth rate per embryo transfer, singleton live birth rate per embryo transfer, and singleton live birth weight in grams.
Researchers found that the miscarriage rate did not differ between fresh and frozen embryo transfer cohorts. Live birth rate, clinical pregnancy rate, and singleton live birth rate were higher in fresh embryo transfers in low and intermediate responders. Infants born after frozen embryo transfer were heavier in the intermediate and high responders. The rate of low birth weight increased with number of oocytes retrieved.
The findings are important for informing clinical practice, Muasher says. "The IVF treatment is costly, and it is stressful and emotionally draining for many patients," he says. "If there is no benefit and actually harm to the majority of patients undergoing the treatment to freeze all the embryos and prolong the treatment process, then a fresh transfer should be the goal for all patients."
Although the findings are important, the study had several limitations, Muasher and Acharya caution. The most important was the lack of data on patient hormone levels at the time of oocyte trigger, which made it impossible to distinguish between patients who underwent elective versus recommended freeze-all cycle. The investigators suggested that future studies take hormone levels into account.