Niraparib Prolongs PFS in Ovarian Cancer
Published
January 17, 2017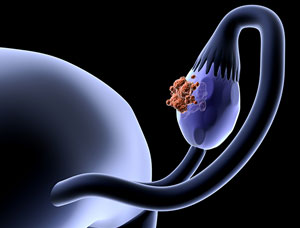 The poly-adenosine diphosphate ribose polymerase (PARP) inhibitor niraparib significantly prolongs progression-free survival (PFS) in patients with recurrent, platinum-sensitive ovarian cancer, according to results of a double-blind, placebo-controlled, international, phase 3 clinical trial. The findings of the NOVA trial—an international collaboration between multiple institutes and the European Network for Gynaecological Oncological Trial groups and sponsored by the manufacturer of the drug—were published in the December 1, 2016, issue of the New England Journal of Medicine.
In the trial, investigators divided the 533 participants into 2 groups based on the presence or absence of a germline BRCA mutation. Further testing revealed the presence of a subpopulation of participants in the non–BRCA mutation group with homologous recombination deficiency–positive tumors. Investigators examined PFS in the different study populations to determine who would benefit most from treatment with niraparib.
"Recurrence rates are very high for women with ovarian cancer," explains Angeles Alvarez Secord, MD, a gynecologic oncologist at Duke and an investigator on the trial. "Identifying drugs that can prolong remission or disease control and possibly even survival is very meaningful for our patients, especially if these drugs are easy to administer and have a favorable side-effect profile."
PFS was prolonged in all 3 treatment groups compared with the placebo group (Table). Secondary end points, including time to first subsequent treatment and chemotherapy-free interval, also improved.
Table. Rates of PFS in the Study Cohorts
| | |
| --- | --- |
| Group | PFS, mo |
| BRCA mutation vs placebo | 21.0 vs 5.5 |
| Non–BRCA mutation vs placebo | 9.3 vs 3.9 |
| Homologous recombination deficiency–positive tumor vs placebo | 12.9 vs 3.8 |
PFS = progression-free survival.
Although more than 10% of participants on niraparib experienced grade 3/4 adverse events, adjusting the dosage successfully resolved these events, and the participants continued to receive the study drug. Quality of life was comparable between the niraparib and placebo groups.
In addition to suggesting that the investigational drug niraparib improves PFS across subgroups, the results of the NOVA trial indicate that homologous recombination deficiency testing may provide a useful complement to BRCA mutation testing for genetic counseling, Secord notes.
"It's clear from several PARP inhibitor trials that women with germline BRCA mutations obtain the most benefit from these drugs," she says. "The NOVA trial provides evidence that women with homologous recombination deficiency–positive tumors may also receive a significant and meaningful benefit, whereas women who do not carry a germline mutation and have homologous recombination deficiency–negative tumors may not see as much benefit."
Niraparib received fast-track designation from the US Food and Drug Administration (FDA) to help expedite review of the drug for the treatment of recurrent, platinum-sensitive ovarian, fallopian tube, and primary peritoneal cancer. The manufacturer of niraparib submitted the completed application for FDA approval in early November 2016. Should the drug be granted approval, niraparib would represent the first maintenance therapy approved for recurrent, platinum-sensitive ovarian cancer.
With 2 drugs approved in 2014 and 2 more being assessed in 2017, the future is brighter for all patients with ovarian cancer, says Secord: "We are hopeful that newer medications, diagnostic tests, and procedures will help improve our ability to prevent and cure this disease."