New Glucose-Sensing System May Improve Adherence for Patients With Diabetes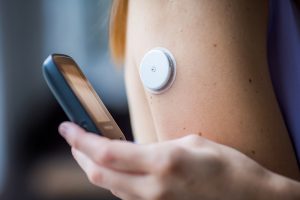 A new, wireless glucose-sensing technology is being offered by Duke endocrinologists to patients with diabetes mellitus to encourage adherence, particularly among those whose lifestyles make it inconvenient to monitor glucose levels consistently.
The relatively affordable system pairs a sensor—a thin, flexible filament inserted under the skin—with a hand-held reader that scans the sensor instantly as it is waved over the patch. Finger sticks are not required. The sensor, which must be replaced regularly, is held on the skin with an adhesive patch about the size of a quarter.
The new monitoring system—the FreeStyle Libre system (Abbott Laboratories, Lake Bluff, IL)—records glucose data every minute and updates the reading every 15 minutes for up to 10 days. Although finger sticks are not typically required, the hand-held reader also includes a skin prick to allow blood testing when a patient's symptoms do not match the readings or when a patient suspects an inaccurate reading. Duke began prescribing the devices in the fall of 2017 after they became available in the United States.
The technology is another convenient option in an evolving industry featuring new pumps that pair with personal devices to offer wireless glucose measurement and insulin-dosing technologies that eliminate many traditional hassles for patients with diabetes.
"This system is particularly effective for my patients who are not testing as frequently as they should," says Susan E. Spratt, MD, the director of diabetes services at Duke. "Many people are just busy and don't have time to get out the materials, wash their hands, and prick their finger. Or they don't want to display blood in a public place," she adds.
Spratt and diabetes education experts caution, however, that the new technologies are not a substitute for personal management and monitoring.
Anna Schaffer, NP, who works with Spratt in a Duke diabetes clinic, says the new system appeals to patients because of its pain-free option. "Sometimes the reason it is preferred is simply because the patient's fingers hurt from frequent checking and they want to avoid the pricks," Schaffer says. "For the most part, this system bypasses the finger prick."
Spratt says the system is affordable compared with other options and is often covered by insurance. The glucose reader costs about $65; a month's supply of patches costs $75. "Compared with co-pays for other testing technology, we think this product is priced well, especially if the patient is not sure this is a permanent option."
Physicians and educators in Duke's Division of Endocrinology, Metabolism, and Nutrition offer classes for patients with diabetes to explore the technologies.