New ECMO Protocols for ARDS Management Implemented by Duke Pulmonologists
Published
November 6, 2017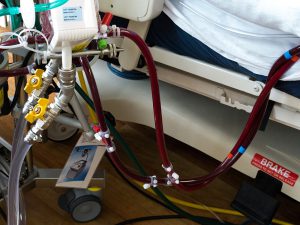 Extracorporeal membrane oxygenation (ECMO) use in adults has expanded significantly since the swine flu pandemic of 2009—the same year the Duke medical intensive care unit (MICU) began using ECMO to manage patients with acute respiratory distress syndrome (ARDS).
Annual ECMO volume for ARDS patients in the Duke MICU has increased from less than 20 patients per year in 2013 to more than 50 in 2017, based on projections through the end of the year. New protocols governing ECMO use in treating ARDS have increased patient survival rates by more than 10% during the past year in the Duke MICU.
Creating the ARDS management protocols was a necessary step to ensure consistent care, says Craig Rackley, MD, medical director of adult ECMO in the Duke Division of Pulmonary, Allergy and Critical Care Medicine, as the Duke MICU experienced a significant increase in referrals when mobile ECMO became possible with Duke Life Flight in 2015. "We are now bringing in sicker patients who were previously too unstable to move," he explains.
Duke developed relationships with regional medical centers that allowed surgeons to put critically ill patients on ECMO before transport; the majority of mobile ECMO patients arrive from other Duke facilities and Fayetteville-, Raleigh-, Greensboro-, and Charlotte-based medical centers.
Implemented in September 2016, the new ECMO ARDS protocols established guidelines for 7 procedures. Adoption of the guidelines increased survival rates at Duke from below 60% to 70% to 80%, says Rackley. The protocols provide algorithms for the following:
Adjusting ECMO blood flow
Adjusting sweep gas
Establishing settings for ventilation
Creating criteria for sweep trial
Setting directives for sedation and paralytics
Managing fluids and vasopressors
Targeting timing of anticoagulation and/or transfusion
Duke University Hospital has been recognized as one of 5 global centers of excellence by the Extracorporeal Life Support Organization, an international nonprofit consortium of health care centers and clinicians that monitor ECMO trends.