New Duke Orthopaedic Surgeon Focuses on Physically Active Children and Adolescents
Published
August 30, 2016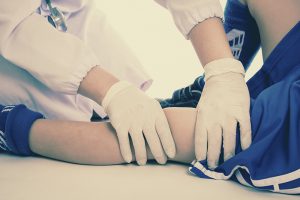 Jonathan C. Riboh, MD, a new orthopaedic surgeon recruited to Duke, focuses on young athletes, specializing in children, adolescents, and young adults with sports-related injuries of the shoulder, knee, and elbow. 
Riboh, one of the few pediatric sports medicine surgeons on the East Coast, is working to build a regional center of excellence to attract pediatric patients with a full range of sports injuries. With a background in such complex procedures as growth-sparing anterior cruciate ligament (ACL) reconstruction, meniscal repair, and allograft transplantation, Riboh is already attracting referrals.
Riboh brings expertise in ACL reconstruction, shoulder instability, knee cartilage repair and transplantation, and other complex conditions such as osteochondritis dissecans and patella instability. "With all of these conditions, the adage that 'children can't be treated like small adults' holds true," comments Riboh.
"We are building the infrastructure at Duke to treat the more challenging pediatric sports cases that regional orthopaedic surgeons generally prefer to refer," he says. Many of these patients travel to children's hospitals in Boston, Chicago, or Nashville, TN, for surgical care, Riboh adds, highlighting the need for this expertise in the mid-Atlantic region.
Riboh explains that the focus on younger athletes is part of a larger initiative within the Duke Sports Science Institute to ensure that new scientific findings from clinical trials and human-performance research quickly translate into his work with young athletes.
Riboh, who commonly performs ACL reconstruction, says the growing number of knee-ligament tears in younger patients has become a public health issue. 
"Surgical repair techniques are distinctive in younger populations because growth plates present specific challenges," says Riboh, who has initiated long-term research projects to study the outcomes of ACL reconstruction in children. His research focuses on how to prevent ACL tears from happening again. 
Among children younger than 18 years of age who experience an ACL tear for the first time, the likelihood that they will experience a second ACL tear is between 25% and 35%. "We must do a better job of figuring out how to prevent those second incidents."
Off-season training camps and specific knee-strengthening exercises help prevent ACL tears, but Riboh says few young athletes undertake adequate conditioning.
High exposure at young ages to sports such as soccer, as well as a lag between growth and coordination in 12- to 15-year-olds, creates favorable conditions for knee injuries.
"Community orthopaedic surgeons often encounter challenging cases that cannot be treated in children with standard techniques," Riboh says. "Duke has the collaborative infrastructure of a large medical system to ensure comprehensive care for even the most complex cases, while providing a customized experience for the child and his or her family."