New Device Provides Quality 3D Imaging With Low Radiation Exposure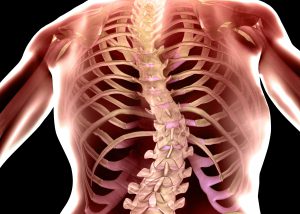 A low-dose imaging device—the first of its kind in North Carolina—is now being used at Duke Health's pediatric orthopaedic clinic. Delivering up to 10 times less radiation than conventional radiography and 20 times less than basic computed tomography, the imaging device has been used in more than 100 cases.
In some instances, the radiation dose can be up to 50 times lower than conventional radiography for certain patients in the postoperative setting.
Combining less radiation and quality 3-dimensional images of the weight-bearing spine have made the device an essential tool for specialists such as pediatric spine surgeon Robert K. Lark, MD.
The medical imaging system provides front and lateral radiography while the patient is in a standing position, so the system relies on a highly sensitive detector or multiwire chamber. The imaging device was brought to market by EOS Imaging in 2015, a company based in Paris, France.
"We get a full-length, whole-body image," says Lark. "You also get a front and side view at the same time. We can better see the alignment of the entire spine, including the pelvis and hips."
The detailed images provide enough clarity, Lark says, to permit precision measurement as there is no magnification artifact. "I perform scoliosis surgery frequently, but this technology is beneficial for any bony alignment issue such as kyphosis or leg abnormalities."
Previously, full-length spinal radiography required taking several images and stitching them together. "We often saw blurring from patient movement or stitches that hampered our views," he says.
Lark explains that pediatric patients with conditions such as scoliosis often require multiple fittings for braces because they are continually growing. The lower radiation dose of the new device reduces the cumulative radiation exposure for young patients and is more appealing to parents.
Although it is not effective for imaging soft tissue and thus far is used in the pediatric clinic alone, the technology may soon be deployed for adults. Spine surgeon William J. Richardson, MD, is already discussing plans to obtain imaging of his adult patients.
"We are looking for ways to broaden the use," Richardson says. "I'm anxious to use it to help us evaluate spinal deformity and the balance of the spine before and after surgery."
The ability to obtain repeat imaging using low exposure is a significant advantage, Richardson says. "It will be helpful for joint replacement and leg deformities."