New Clinic Offers Multidisciplinary Approach to Pituitary Tumors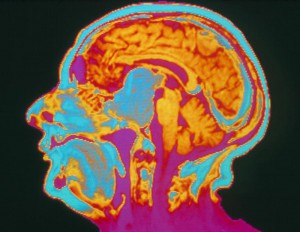 Treatment of a pituitary tumor requires an individualized plan that often involves several subspecialties. Medication or surgery alone is effective for some tumors, but complex cases generally require a carefully tailored combination of medication, surgery, and radiotherapy.
Because it is often difficult for patients and their families to navigate the many evaluations from the diverse subspecialties that help treat pituitary tumors, Duke specialists came together to create the Multidisciplinary Pituitary Clinic to offer state-of-the-art treatment while streamlining patient experience by keeping visits to a minimum.
Two pituitary specialists from different disciplines—neuroendocrinologist Lauren F. Gratian, MD, and neurosurgeon Patrick J. Codd, MD—founded the clinic and coordinate their schedules so they can see patients on back-to-back visits.
"Dr Codd and I sit down together before we see the patient and review the results of magnetic resonance imaging of the tumor to evaluate its extent," Gratian says. "He can determine the best surgical approach if needed, and I perform extensive hormonal assessment to determine whether the tumor is functional or not functional, and whether it is having any impact on the normal hormone production of the pituitary gland."
She says that they use this information to determine the initial treatment plan. "For complex cases, we also collaborate with ear, nose, and throat (ENT) skull-base surgery, neuroradiology, radiation oncology, and neuro-ophthalmology to offer a multidisciplinary approach to treating these patients."
Treatment can depend on a host of factors, including tumor size, hormonal action, whether the tumor is causing an excess or deficiency of hormones, and tumor growth. Tumors that affect hormone secretion require a well-coordinated plan because the hormone status must be stabilized prior to surgery. Tumors large enough to impinge on the optic nerves, brain, or vessel structures require special consideration of their own.
Gratian and Codd also have the option of reviewing the most complex cases in a formal, multidisciplinary tumor board that can include a neuroradiologist, radiation oncologist, medical oncologist, pathologist, and senior professors from several different departments to get the most complete advice.
"Some of our patients travel 3 or 4 hours to get here, so it is definitely an advantage for the patient to have everything in one place," explains Gratian. For patients who need additional imaging, same-day visits can generally be arranged, and a hormonal assessment can usually be completed during the initial visit. Gratian says that this benefits patients because most of them can complete all of their preoperative work during a single appointment.
When surgery is required, Duke offers the latest techniques, uniting minimally invasive endoscopic surgery, advanced neuroimaging, computer-guided navigation, and nasal-care techniques to address each patient's tumor with the greatest precision possible. Codd and his partner David W. Jang, MD, an ENT skull-base surgeon, perform these resections as a team.
Following surgery, Gratian and Codd continue to minimize the number of patient visits by coordinating care for both short- and long-term follow up.