Nephrology eConsult Pilot Cuts Wait Times, Increases Completed Referrals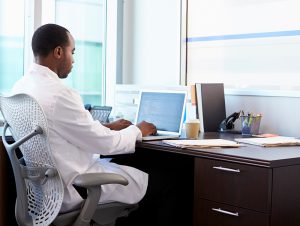 A growing nephrology electronic consultation (eConsult) initiative involving 5 Duke Health clinics has reduced wait times and significantly increased the number of completed referrals—critical steps in identifying and treating patients who have chronic kidney disease (CKD).
eConsults allow primary care providers (PCPs) to obtain written advice from a specialist about a specific patient without requiring a visit with the specialist. Since July 2016, a Duke nephrologist reviewed eConsult requests for patients in the Duke Primary Care network.
C. Blake Cameron, MD, MBI, the nephrologist who provides the service, says the process is particularly effective for kidney disease because CKD is defined by objective laboratory tests. When he identified a patient who required face-to-face care, Cameron alerted the PCP to the need for a follow-up visit with a message on the electronic health record (EHR). Most consultations were handled without a visit.
The eConsult model is viewed as an innovation that can improve specialty care access at a time when communications between specialists and PCPs have become rarer. The increasing numbers of hospitalists and the decline in traditional hospital rounding by PCPs have limited informal, day-to-day interactions with specialists, says Cameron, senior author of a study summarizing the findings in the Journal of Telemedicine and Telecare. Cameron is also a data scientist.
PCPs who participated in the program reported satisfaction with the quick turnaround that resulted from reviewing EHRs. "Often, primary care physicians face clinical dilemmas that they cannot address alone, but those dilemmas may not always rise to the level of a face-to-face visit with a specialist," Cameron says.
Traditional nephrology referrals between July 2016 and March 2017 were completed with a 51-day median appointment wait time and a 40.9% referral completion rate. For eConsults, the median nephrologist response time was a single day with a 100% completion rate. Of the eConsults, 67.5% did not require a subsequent face-to-face specialty appointment. For eConsults converted to an in-person visit, the median wait time was 40 days, with a completion rate of 73.1%. A uniform EHR system is used by all Duke clinics.
"Our overall goal is to take a step back and make sure that every patient gets the right level of care at the right time and in the right setting," says Cameron. "If we can answer straightforward questions without requiring an appointment, the physicians have more time to work on complex cases."
Kevin P. Shah, MD, MBA, a Duke internist and medical director, Primary Care Improvement and Innovation, worked with the eConsult team to develop the initiative and create consulting models that can be applied to other specialties. Shah is also an author of the study.
eConsults have existed for decades, Shah says, but the positive results from the Duke nephrology experience have been transferred for use with other specialties. "We are developing a better clinical pathway for the providers who are using eConsults," Shah says. "We are learning and using best practices. The process is becoming less mechanical and is changing referral practices."
Within the Duke University Health system, the model is being tested with cardiologists, endocrinologists, geriatricians, and rheumatologists, Shah says. To ensure broader expansion, physician leaders must demonstrate that the practice can be scaled and applied successfully. An effective, long-term reimbursement model for the initial data review must be created as well.
"But the results are clearly impressive in demonstrating shorter wait times and improved clinical acuity with higher numbers of patients who need care getting that care," Shah says. The study was funded by the Duke Institute for Health Innovation.