Multidisciplinary Taskforce Shares Best Practices in MS Care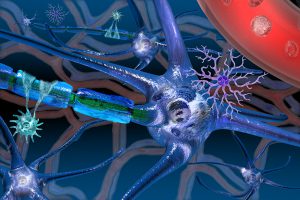 In early 2017, a multidisciplinary Framework Taskforce—convened by the Consortium of Multiple Sclerosis Centers—published a 2-part series outlining best practices for the management of multiple sclerosis (MS). The documents, which discuss diagnostic criteria as well as treatment guidelines, serve as an important starting point for health care professionals seeking guidance on providing care to patients with MS.
Bringing together the expertise of 13 clinician-experts from diverse fields, the guidelines are the first to incorporate the input of key opinion leaders from every facet of care for MS, says taskforce member Bryan Walker, PA-C, MHS, a physician assistant in the Duke Department of Neurology.
"In the past, there have been efforts to have people from different areas and different specialties define best practices for MS," he explains. "But this is the first time we've had the full gamut of specialists combine their expertise."
Last month, the US Food and Drug Administration approved use of ocrelizumab, the first disease-modifying drug to hit the US market for the treatment of relapsing or primary progressive forms of MS. The drug has been shown in trials to slow disease progression.
Having a single framework of care that summarizes the diagnostic criteria and best practices for MS care has become critical in the expanding landscape of MS treatment, Walker says: With more than a dozen different disease-modifying therapies available to treat a disease that is extremely phenotypically diverse, it is difficult to predict which medications will be effective for any given patient.
To help clinicians make these types of decisions, part 1 of the framework outlines the updated disease phenotypes and disease-specific terminology and provides recommendations for using risk stratification and shared decision-making to determine the appropriate course of disease-modifying therapy for patients with MS. In particular, the guidelines recommend initiating therapy as soon as a diagnosis is made and to use an aggressive approach in patients who present with predictors of significant disease progression.
In part 2, the committee shares strategies for interdisciplinary approaches to treating primary, secondary, and tertiary symptoms associated with MS. These symptoms, which are not targeted by disease-modifying therapies, can greatly impair patient quality of life and must be addressed as part of a patient's care, Walker says.
"If we just operate in a silo where we treat the lesions in a patient's brain or spinal cord but not anything else, that's not really treating the patient," Walker says.
"We work closely with a number of different folks in different areas to provide comprehensive care to each individual patient." He notes that these interdisciplinary efforts are particularly important for treating progressive forms of MS, for which, until recently (see sidebar), there were no disease-modifying therapies approved by the US Food and Drug Administration.