A Duke molecular research laboratory is pioneering research to identify potential therapies to treat focal segmental glomerulosclerosis (FSGS) by examining the ways in which genetic mutations affect cellular signaling.
While much of the work at the Duke Molecular Physiology Institute (DMPI) has been focused on identifying genetic factors that contribute to hereditary FSGS, a new phase of molecular biology and biochemical research is focused on developing therapeutics.
FSGS is the most common cause of nephrotic syndrome in the adult population and is now most common primary glomerular disease that causes end-stage kidney disease (ESKD) in the United States, says Gentzon Hall, MD, PhD, a researcher and assistant professor in the Duke Division of Nephrology.
Approximately 8 to 20 percent of ESKD may be attributable to FSGS and the incidence of the disease has increased nearly 13 times over the past three decades. Medicaid spending for FSGS and related care is estimated at $3 billion annually in the United States, a cost that includes all levels of treatment, including dialysis, transplant, and management of chronic kidney disease.
Hall and DMPI colleagues, including lead renal genetics researcher Rasheed Gbadegesin, MBBS, MD, a pediatric nephrologist, have reported findings associated with the human FSGS-causing LMX1βR246Q and ANLNR431C mutations in the past year. The findings were published in Scientific Reports and the Journal of the American Society of Nephrology respectively and will be presented at the 2018 American Nephrology Society annual conference.
Image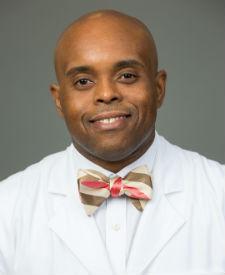 We are working to reshape the treatment paradigm that exists around genetic forms of kidney disease.
Gentzon Hall, MD, PhD
"We are working to reshape the treatment paradigm that exists around genetic forms of kidney disease," Hall says. "We operate on the principle that even genetic injuries can potentially be treated because of the possibility of manipulating the signaling downstream of the genetic injury."
The research objective of the renal genetics group at the DMPI is to expand discoveries that help generations of families with FSGS. Hall's expertise in biochemistry and cellular and molecular biology has helped broaden the research mission to include the search for disease-relevant molecular targets within cellular signaling pathways that are disrupted by genetic disease.
"We want to help the affected cell type remain viable and perhaps extend those findings to develop treatment that will allow patients with these mutations to hold on to their native kidneys for much longer and avoid the transition to dialysis or transplant," Hall says.
DMPI's FSGS research builds on previous research from the late physician-scientist Michelle P. Winn, MD, who published a landmark paper in 2005 in Science reporting that mutations in the TRPC6 gene caused FSGS.
Hall encourages nephrologists who encounter hereditary kidney disease to consider contacting the DMPI research team because of the laboratory's emerging genetic research and awareness of current scientific literature.