Modeling Career and Law School Plans Saved by Novel Skull Base–Tumor Procedure
Published
February 12, 2018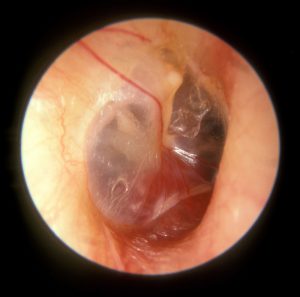 Reprinted under the Creative Commons Attribution 4.0 International license. Image attributed to Michael Hawke, MD.
After experiencing sudden hearing loss, migraines, and dizziness, a 24-year-old woman was diagnosed with a glomus jugulare tumor and referred to Duke. Recognizing that this type of tumor can sometimes appear in more than one area of the skull base, Duke otolaryngologist and head and neck surgeon David Kaylie, MD, ordered a magnetic resonance imaging (MRI) scan, revealing a second tumor wrapped around the patient's carotid artery.
With 2 tumors dangerously close to the nerves that control swallowing, speech, hearing, balance, and vocal chord movement, the patient faced a number of risks, including the possibility that she might not be able to continue her dancing and modeling career or attend law school as planned.
Traditionally, glomus jugulare tumors have been treated with 100% removal, a procedure that often requires surgeons to cut into nerves intentionally in order to extract all of the tumor. This procedure can result in severe injuries to the carotid artery and confers a high risk of facial paralysis.
Duke's Skull Base Center is at the forefront of a newer, safer procedure, in which surgeons do not enter the facial nerves to remove the tumor and leave a small portion of the tumor intact.
Question: Can glomus jugulare tumors be treated successfully if part of the tumor is left behind?
Answer: Yes. By preserving a small portion of tumor tissue around the nerves, the risk of paralyzing the patient's facial or swallowing muscles is greatly reduced, Kaylie explains. Following surgery, fractionated radiation treatments are used to radiate the remaining portion of the tumor, which further reduces the risk of nerve damage. Glomus jugulare tumors generally do not recur following successful treatment.
"In the past, we gave all of the radiation following surgery in a single high dose, which provided good control of the tumor but involved additional risk to the nerves," says Kaylie. "With improvements in radiation techniques, we can now successfully give smaller doses over a longer period of time so it's safer for the nerves."
Recognized as the most complex surgery performed at Duke's Skull Base Center, the new procedure requires careful planning and collaboration among several specialties. Kaylie partnered with head and neck surgeon Ramon Esclamado, MD, neurosurgeon Ali Zomorodi, MD, and radiation oncologist John Kirkpatrick, MD, PhD, to develop a detailed multidisciplinary treatment plan for the patient.
Kaylie notes that the procedure still carries a high risk of facial paralysis, and some patients require a feeding tube because they are unable to swallow. "When the patient awoke, her facial function was completely normal," says Kaylie. "I felt very confident that we'd be able to do the procedure, but it was still very satisfying to see her on the first day after surgery, smiling and drinking ginger ale."
Although the tumors caused a permanent 90% hearing loss in her right ear, the patient is otherwise expected to make a full recovery. As she had hoped, the patient started law school 4 days after her final radiation treatment.