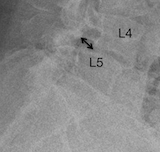 A 48-year-old woman with scoliosis and spondylolisthesis presented to Duke Neurosurgery with low back pain and pain radiating down her leg. She had been consulting with a physiatrist and pain specialist and had tried multiple conservative treatments including physical therapy and steroid injections. Still, her pain persisted, and eventually she was unable to work or exercise, causing her to gain weight. She hoped to find a long-term solution to her pain without resorting to traditional fusion surgery.
Question: What minimally invasive alternative to traditional fusion surgery could Duke offer?
Answer: Duke Neurosurgeon Muhammad Abd-El-Barr, MD, PhD, recently began offering percutaneous transforaminal lumbar interbody fusion by discectomy through an 8-mm cannula. The approach minimizes the size of the incision required for insertion of the fusion device.
The new approach provides long-lasting relief from low back pain, with minimal blood loss, trauma, and scarring, explains Abd-El-Barr. Because the procedure is minimally invasive, patients can get back to their lives very quickly.
"Spine surgery has traditionally been very scary from the patient's perspective," he notes. "There's kind of a stigma that once you have spine surgery you can't go back to your everyday life. Now, with these minimally invasive techniques, we're getting patients back to the life they want to lead much faster."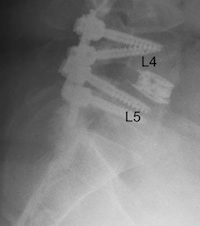 Abd-El-Barr discussed the risks and benefits of the surgery with the patient, and, initially, she was very hesitant. However, her pain worsened, and she continued to gain weight. Three months later, she returned to meet with Abd-El-Barr who again spoke to her about the risks and benefits of surgery. She agreed to have the surgery.
The surgery went smoothly, with no complications, and Abd-El-Barr successfully deployed an interbody spacer to restore her disc height and put her vertebral bodies back into their normal positions.
By the next day, the patient was experiencing significant relief from her back pain and was able to return home. Weeks later, she reported that she was walking more than 2 miles a day and had returned to work, almost completely pain free. Because she is able to exercise and has improved her diet, she has lost more than 20 pounds since surgery.  
The procedure is one of the first such surgeries to be performed in North Carolina, Abd-El-Barr says. Many medical centers cannot yet offer the surgery because it requires specialized training and equipment.
"At Duke, we're lucky that we're able to offer patients alternatives to traditional spine surgery," he says. "We're really pushing the boundaries on minimally invasive spine surgery."