Memory Makers Helps Families Prepare for Effects of Cognitive Disorders
Published
November 22, 2016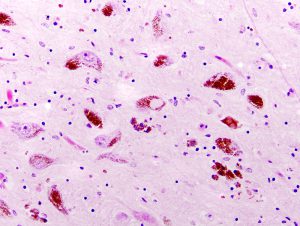 An active, healthy 74-year-old man presented to his primary care physician because he was concerned about consistent memory lapses. The physician diagnosed the patient with mild cognitive impairment.
Because the diagnosis can be a precursor to significant neurologic challenges, including Alzheimer disease, the patient was referred to a neurologist. He was evaluated at a neurology clinic, and he and his wife participated in an education and support program for individuals experiencing memory loss. Meanwhile, his condition deteriorated.
At 76 years of age, he began experiencing mild tremors, rapid eye movement sleep behavior disorder, and hallucinations. Further tests confirmed Lewy body dementia (LBD). Working to manage the patient's cognitive decline, his physician prescribed him donepezil to improve his cognition and behavior.
The patient and his wife, both retired public health professionals, were initially frustrated that clinical care focused only on the patient while support programs focused only on family caregivers. They searched for a program that would engage them as a couple and help prepare for the future effects of the disease.
After joining the Duke Alzheimer's Evening Support Group, the first memory-loss support group in North Carolina, the patient's wife was directed toward another Duke program designed specifically for both patient and caregiver—Duke's Memory Makers: Early-Stage Memory Loss Education and Support Group. Meeting weekly for 2 months and providing 6 expert care training sessions, the Memory Makers program also organizes smaller support groups.
The couple entered Memory Makers at the time of the LBD diagnosis. Learning about and sharing the challenges faced by other patients and caregivers created a comforting support network. The setting brightened the patient's mood and outlook and provided a framework that united the patient and his wife in the journey they faced.
"The patient and his wife were the matriarch and the patriarch of the early-stage memory loss support group," says Lisa Gwyther, MSW, director of the Family Support Program within the Duke Center for the Study of Aging and Human Development. "They were natural leaders, wise and helpful teachers. Everyone admired the ways in which they shared their experiences and faced the future."
Despite his continuing decline, the couple became advocates for others experiencing memory loss and encouraged a public, proactive approach. He participated in 2 clinical trials; she joined family caregiver studies. Working together, they helped launch and sustain additional programs that extended a social support continuum for patients and families.
Despite his mental and physical decline, the patient did not show signs of anosognosia. He consistently expressed concern about the burden his care presented to his wife and family.
Support at Duke

The
Duke Family Support Program
is available to patients, families, and professional caregivers in North Carolina. Social workers help patients and their family connect with educational and support programs, answer questions by phone, and assist communities in designing services to support older adults with cognitive decline.
"He was an exceptional role model for all the patients and families in our program," remembers Bobbi Matchar, MSW, MHA, a clinical social worker who directs early-stage memory loss programs for the Duke Family Support Program. "His wife continues his role by sharing their experiences with individuals and ongoing local groups."
Because of increasing care demands, he entered an adult daycare program about 3 years after the diagnosis. He died in 2015 in hospice care while living in a full-time family care home.
"These services were created because of broad recognition of our community's needs," Matchar says. "Duke had the expertise to help these families and the experience to work with clinical teams. We're continuing to learn and grow. One positive outgrowth of Memory Makers, for example, is the way in which it became a portal helping patients connect to other community resources."