MEDx Initiative Focuses on the Long Term
Published
December 4, 2017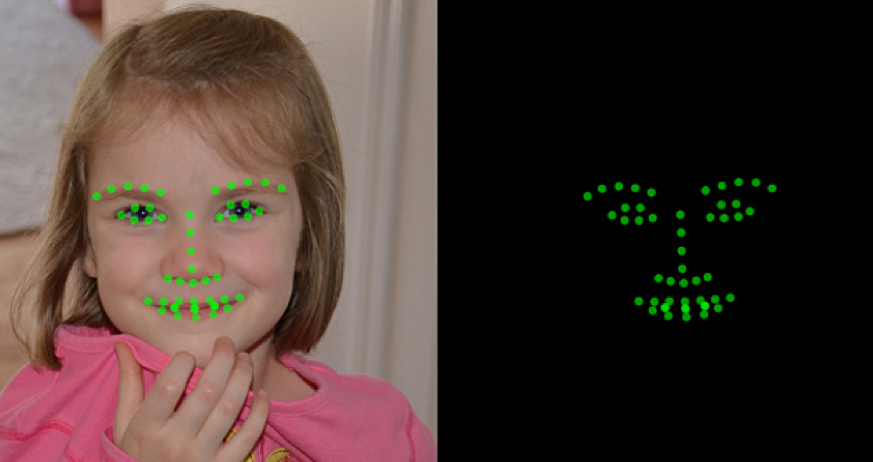 FIGURE. Example of MEDx research illustrating the automatic detection of facial landmarks for emotion analysis. Courtesy of Guillermo Sapiro and the Duke Autism & Beyond Team.
A collaboration between the Duke School of Medicine and the Pratt School of Engineering, created to inspire scientific innovation as well as develop and commercialize new health technologies, is focused on fostering a sustainable, long-term operational approach.
Created 2 years ago, the partnership—known as MEDx (Medicine and Engineering at Duke)—is crafting long-term plans to support its mission of transdisciplinary innovation. The MEDx team is identifying funding sources—research grants and philanthropy, for example—to create and support a sustainable model while projects move toward commercialization.
"The metrics around our early projects—primarily diagnostic and device innovations—are generating sufficient data to earn follow-on funding or move toward commercialization," says Geoffrey Ginsburg, MD, PhD, the director of the initiative.
Kenneth Gall, PhD, a professor in the Department of Mechanical Engineering and Materials Science, says MEDx has facilitated valuable connections between faculty, students, and trainees in the schools of medicine and engineering.
"It's a unique resource aimed at enhancing collaboration at multiple levels and across all engineering and medical disciplines," Gall says.
Duke has a history of groundbreaking research at the interaction of medicine and engineering, including
Health informatics. An app for early autism screening has been developed, as well as an approach to effective presymptomatic disease diagnosis
Tissue and genetic engineering. Researchers have created 3-dimensional (3-D) engineered human muscle and are working on gene editing to help cure genetic diseases
Drug and device innovation. From ophthalmology to drug delivery, several projects are underway, including the development of Optical Coherence Tomography to guide eye surgery, optical detection of breast cancer margins, drug delivery depots for glucose control, and 3-D mammography with lower radiation exposure
Reverse engineering the brain. Work is underway to improve deep-brain stimulation and create more effective brain-machine interfaces and neuroprosthetics; additionally, a federal grant has been awarded to develop next-generation magnetic resonance imaging for the brain
Basic science advances. In addition to creating both 2-D and 3-D structures of engineered biological materials, MEDx projects have produced atomic-force microscopy for protein folding and human microphysiologic systems for drug testing
More recently, with the support of MEDx, ongoing novel projects are showing great promise, including
A smart-phone app to monitor multiple sclerosis (MOSAIC)
A rapid, noninvasive point-of-care cancer diagnostic tool
Devices for improved tendon-to-bone healing
A novel catheter to treat hydrocephaly
A microphysiologic system to test the tumorigenic behaviors and drug responses of skeletal muscle tumors
A high-intensity, forced ultrasound and immunotherapeutic intervention to destroy tumor cells
A miniaturized apheresis device for research and pediatric use
"We are at the beginning of year 3, and we've done a lot of great work knitting together the MEDx structure and approach," Ginsburg says. "We are now putting more focus on the future."