Managing Thyroid Eye Disease
Published
December 6, 2016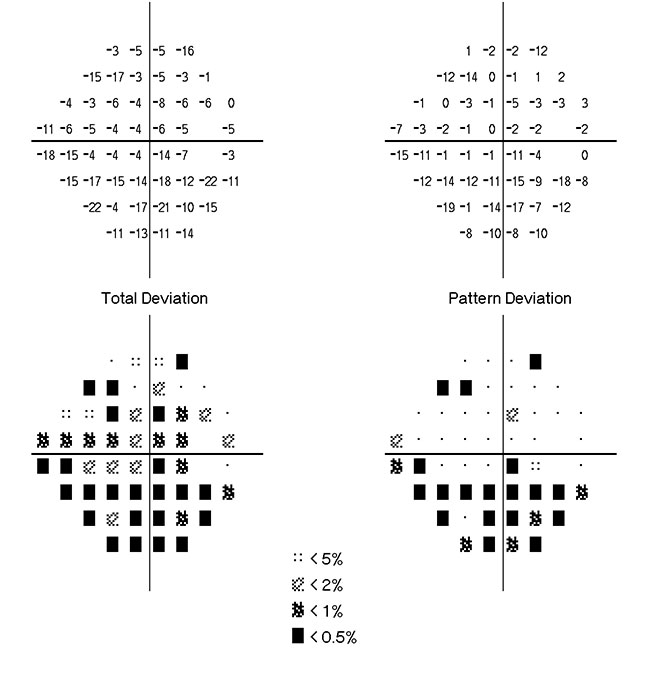 FIGURE 1. Total deviation and pattern deviation plots of the right eye at initial presentation (Humphrey Field Analyzer Model 750i; Carl Zeiss Meditech, Dublin, CA)
A 30-year-old woman was referred to the Duke Eye Center to manage her thyroid eye disease. She had severe exophthalmos in both eyes, and, upon waking each morning, she had near-complete loss of vision in her right eye for 30 to 60 minutes.
At Duke, she consulted with ophthalmologist Jason Liss, MD, who specializes in oculoplastics and reconstructive surgery. After examining her, he suspected she might have compressive optic neuropathy in the right eye, worsened by positional orbital swelling that developed overnight (Figure 1).
Question: How was the patient treated?
Answer: The patient was treated with oral steroids that helped decelerate her disease activity, improve her visual field, and restore her morning vision. However, because of severe tissue crowding at the apex of the orbit, Liss also performed orbital decompression surgery in conjunction with otolaryngologist Matthew Ellison, MD, using a Sonopet ultrasonic aspirator (Stryker, Kalamazoo, MI).
The Sonopet enabled Liss to remove bone from the tight space of the ocular orbit, allowing the patient's eye to settle back into its socket. "In the past we used a burr or a saw for orbital decompression," says Liss. "Using those devices near the eye was always stressful because it was harder to control. The ultrasonic device is less traumatic to the tissue and carries less risk."
The procedure was successful, and the right eye was improved (Figure 2). However, soon after the procedure, the patient's left eye became inflamed, with eyelid retraction that prevented her eye from closing. Her left eye developed exposure keratopathy and corneal ulceration as a result, and Liss involved corneal specialist Christopher Boehlke, MD, in the patient's care.
After settling the left orbital inflammation with oral steroids, Liss and Ellison repeated orbital decompression surgery on her left eye. To help the left eye close, Liss also performed eyelid surgery to release extensive scar tissue from the patient's left upper eyelid.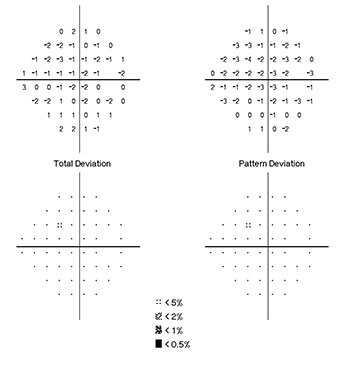 FIGURE 2. Total deviation and pattern deviation plots of the right eye after intervention (Humphrey Field Analyzer Model 750i; Carl Zeiss Meditech, Dublin, CA)
The patient saw immediate improvement: 3 months later, she could close her eye almost completely. The severe exophthalmos in both eyes was vastly improved, and her vision and visual fields had returned to normal. Liss reports that she does not require any continuous medication, only an occasional artificial tear drop for dry eyes.
"There are 2 ways you can lose vision in thyroid eye disease: optic neuropathy, which she had when I first saw her, and corneal exposure, which she later developed on the other side," Liss remarks. "So, at different times, this patient faced the 2 most severe consequences of thyroid eye disease. It was critical that we recognized the seriousness of her condition right away, or she could potentially have lost vision in both eyes."
Liss continues to monitor the patient's condition and next spring plans to perform a final surgery to better align her right upper eyelid with her left.