Managing Recurrent Nephrolithiasis
Published
October 11, 2016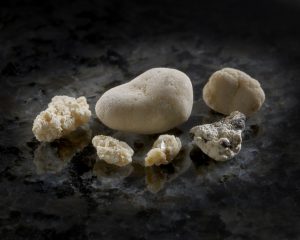 After years of recurrent nephrolithiasis, an active, 65-year-old man was referred to the Comprehensive Kidney Stone Center at Duke to help manage his condition. The patient had undergone a previous surgery to remove renal calculi and had horseshoe kidneys, making surgery challenging.
Computed tomography revealed a 2.6-cm renal calculus in the patient's kidney, and Glenn M. Preminger, MD, director of the center, performed a complete metabolic evaluation, including 24-hour urine collection, to identify potential risk factors.
Question: What approach did Preminger take to prevent the patient's recurrent nephrolithiasis from disrupting his active lifestyle?
Answer: Based on the patient's metabolic evaluation, Preminger helped him successfully manage his nephrolithiasis using selective medical therapy, which included hydrochlorothiazide and potassium citrate, and recommended that the patient increase his fluid intake. However, after 11 years, the patient began to feel intermittent flank pain, so Preminger performed percutaneous nephrolithotomy, successfully removing the symptomatic calculus.
Because the large kidney stone was asymptomatic, there was initially no need to remove it. "For asymptomatic stones, unless they are obstructing the urinary tract or causing infection, we often choose just to observe them and start the patient on prophylactic medical therapy," Preminger says. "If the patient is compliant with the therapy, it can reduce the risk of new stone formation or growth of any existing stones by 90% to 95%."

The patient adhered to his medication schedule and increased his fluid intake, and, for 11 years, the kidney stones did not increase in size and no new stones were formed. However, the calculi shifted their position in the kidney over time, eventually causing the patient pain and hematuria, particularly following exercise.
To get the patient back to his active lifestyle playing tennis, Preminger performed minimally invasive surgery that involved fragmenting the large calculus prior to removing it through a small incision in the patient's back.
The renal calculus was successfully removed without any complications, and the patient was back to playing tennis within 2 weeks. He has continued medical therapy, and he's been free of any new stones for more than 3 years.
Preminger emphasizes the importance of preventive care for all patients with a high risk of forming new calculi. "Not only do we have minimally invasive endoscopic techniques to safely remove symptomatic stones, but, perhaps more importantly, we have tried-and-true methods to prevent recurrent stones from forming," he says. "We shouldn't have to tell patients that there's nothing we can do to prevent stone recurrence. There's definitely something we can do by performing the appropriate metabolic evaluation and getting them started on selective medical therapy."