Managing Rapidly Advancing ALS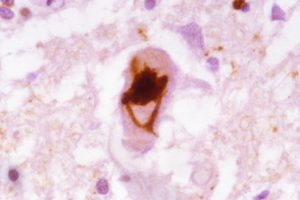 In June 2015, a 41-year-old man was referred to the Duke ALS Clinic. Although he had been experiencing symptoms of amyotrophic lateral sclerosis (ALS) for 6 months, he already had mild speech and swallowing problems. He could not cut his own food, and his legs were too weak to climb stairs.
The patient was initially placed on noninvasive ventilation. However, his condition was rapidly deteriorating at about 3 times the rate of the average patient with ALS, and months later, he made the difficult decision to undergo tracheotomy.
The large ventilator, together with the patient's extreme loss of mobility, made it nearly impossible for him to travel to the clinic for follow-up visits.
Question: What innovative program made it more convenient for the patient to receive the care he needed?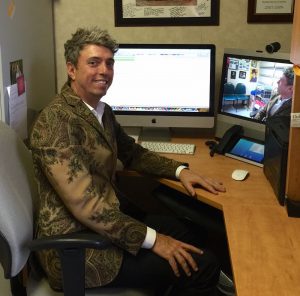 FIGURE. Richard Bedlack, MD, PhD, regularly monitors patient health using the TeleALS in the Home program at the Duke ALS Clinic
Answer: The patient participated in Duke's Tele-ALS in the Home program—sponsored by the ALS Association North Carolina Chapter—which allowed him to attend regular appointments and receive optimal care from his own home.

The Tele-ALS in the Home program was started in October 2015 by Richard Bedlack, MD, PhD, director of the Duke ALS Clinic (Figure). The telemedicine program has allowed Bedlack to regularly monitor the patient's health and improve his quality of life while also maintaining the multidisciplinary approach the Duke ALS Clinic takes to all its patients.
During the televisits, Bedlack has helped the patient manage a large number of symptoms, ranging from pseudobulbar affect to muscle spasms and pain. In a recent consult, a social worker helped the patient apply for Medicaid.
"Having seen more than 2,000 patients in my 15 years working with ALS, one thing that impresses me is just how much we can do for these patients, no matter how far advanced they are with the disease," says Bedlack. "But, because it's such a rare disease, most physicians don't know that."
He adds that the cruelest part of ALS is how the disease itself makes it progressively more difficult for patients to travel to experts who do know the latest developments. "It's the perfect recipe for telemedicine," he concludes.
Bedlack notes that a particular challenge for this patient has been rapidly updating his communication method, which Bedlack describes as a moving target. As of January, he could only communicate with his eyes, using mainly yes or no responses. The clinic's assistive technology team is working to provide an eye-gaze system to allow the patient to use his eyes to spell words.
However, because the patient may also lose control of his eyes, Bedlack hopes to try a brain-computer interface that would allow the patient to control a computer using his brainwaves.
"The Tele-ALS program is very satisfying," says Bedlack. "It allows us to stay connected with our patients who can no longer travel and to continue optimizing their quality of life and bringing them hopeful news about the latest ALS research."