Making the Correct Diagnosis in a Patient With Severe Diarrhea
Published
November 22, 2016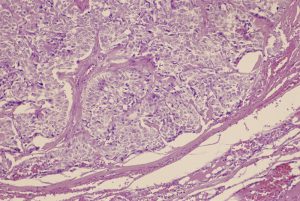 A 57-year-old man consulted a gastroenterologist after experiencing severe bouts of diarrhea. He was also feeling extremely tired and found it difficult to perform his usual activities like playing tennis and teaching. To the patient's surprise, the gastroenterologist observed a painless lump in his neck.
Question: What condition was the painless lump suspicious for, and how did the gastroenterologist proceed?
Answer: A painless, symptomless lump present for more than 2 weeks on one side of the neck in an adult can be indicative of a benign or malignant tumor. The gastroenterologist referred the patient to Ramon Esclamado, MD, chief of the Division of Head and Neck Surgery at Duke.
Esclamado explains that the gastroenterologist was right to refer the patient because this type of lump is commonly an enlarged lymph node that may harbor cancer that has metastasized from the skin, mouth, throat, larynx, thyroid, or salivary glands.
"Many times, we'll see a patient with a lump in his or her neck with no symptoms of infection who has been treated with antibiotics 2 or 3 times before he or she is eventually referred to us," says Esclamado. "But that's not the right thing to do because most of the time that mass is a tumor—it needs to be evaluated as soon as possible."
When the patient arrived at Duke, his serum calcitonin level was 18,000 pg/mL. He was diagnosed with medullary thyroid cancer (MTC) based on the results of needle biopsy. Fortunately, additional evaluation confirmed that the MTC was confined to the thyroid and lymph nodes in the neck.
To treat the MTC, Esclamado performed thyroidectomy and neck dissection. Pathologic findings confirmed the diagnosis and revealed extracapsular spread (ECS) in the lymph nodes in the patient's neck. A few weeks later, David Yoo, MD, a radiation oncologist, administered radiotherapy to ablate the ECS.
The patient experienced no significant adverse effects and was back to playing tennis 6 months later.
"Neck dissection and its modifications—developed over the last 20 years in the field of head and neck surgery—have allowed us to comprehensively remove the involved and 'at-risk' lymph nodes while preserving functional structures in the neck and optimizing cosmesis," notes Esclamado.
Three years after his surgery, the patient is doing well: His calcitonin levels are undetectable at 0 pg/mL, indicating that he remains disease free. Because MTC tends to return early, if the patient doesn't have any cancer after 5 years, Esclamado says that he would consider him cured.