Liquid biopsies can help identify patients with metastatic castration-resistant prostate cancer (mCRPC) who are unlikely to benefit from anti-androgen therapies, providing clarity for physicians and patients and guiding treatment plans.
In the multicenter, prospective study of circulating tumor cell (CTC) AR-V7 and taxane vs. hormonal treatment outcomes in mCRPC (PROPHECY), published in JCO Precision Oncology in October 2020, a research team led by Duke medical oncologist Andrew Armstrong, MD, compared the two different blood-based assays to assess how well they predicted the effectiveness of the hormone treatments abiraterone acetate and enzalutamide.
Armstrong, who is the Director of Research in the Duke Cancer Institute's Center for Prostate and Urologic Cancer, explains that the initial studies using liquid biopsies detected androgen receptor splice variant-7 (AR-V7) in circulating tumor cells (CTCs). "This variant lacks the ligand binding domain of the androgen receptor and thus cannot be blocked by currently approved therapies," he says. "The presence of this variant indicates a poor response to new androgen receptor drugs that are used to treat recurrent mCRPC, but this variant is not associated with worse outcomes with chemotherapy, suggesting clinical utility to help in treatment decisions."
Researchers concluded that detection of AR-V7 in CTCs by two different blood-based assays is independently associated with shorter progression-free survival (PFS) and overall survival (OS) with abiraterone or enzalutamide independent of clinical factors and CTC numbers; however, such men with AR-V7–positive disease still experience clinical benefits from taxane chemotherapy. Armstrong notes that this work has led to incorporation of AR-V7 testing into NCCN guidelines and Medicare reimbursement in this setting.
A major issue is that men with metastatic prostate cancer still lack CTC AR-V7 detection but still suffer from hormone therapy resistance. To address the question of additional mechanisms of resistance through liquid biopsy approaches, Armstrong and his PROPHECY colleagues conducted follow-on studies that have resulted in additional findings recently published in Clinical Cancer Research, Molecular Cancer Research, and European Journal of Cancer. Together, these studies indicate additional mechanisms of hormone resistance, such as neuroendocrine transformation/small cell prostate cancer, which is detectable through this liquid biopsy.
Additional genotyping studies demonstrate the importance of DNA repair defects, lineage plasticity, genes that regulate cell fate/death and proliferation, and epigenetic pathways—each important in dictating clinical outcomes in these men treated with hormonal agents. Armstrong notes that they all focus on different aspects of the liquid biopsy in men with mCRPC who are being treated with hormonal therapy.
Image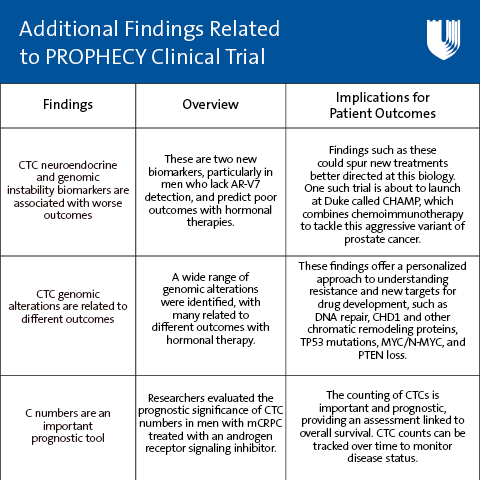 Links to studies: [1], [2], [3]
"The results of this study are clinically useful in guiding care, particularly in men with high-risk disease and those who have already tried enzalutamide or abiraterone," says Armstrong. "We have therapies to treat recurrent, metastatic prostate cancer but they don't work on everyone, and cross-resistance is a major emerging problem in our field."
"It's important to know who will be more likely to respond and who has little chance of benefiting, in order to rapidly provide alternative, more effective therapies or to develop new therapies for these men," he adds.