Link Between Severe Psoriasis and Kidney Disease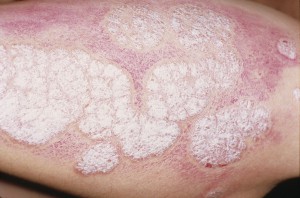 Duke Health rheumatologists have long been aware of the link between psoriasis and cardiovascular diseases, but a new study highlights the effect of autoimmune disorder on the risk of immunoglobulin A nephropathy and glomerular disease.
A population-based study presented during the American Academy of Dermatology's 2016 annual meeting provides evidence that severe psoriasis leads to a fivefold increase in the risk of immunoglobulin A nephropathy and doubles the risk of glomerular disease. The findings bolster the consensus that psoriasis is a systemic illness rather than a condition affecting only the skin.
"We have become more aware of cardiovascular disease and diabetes risks among patients with psoriasis," says Jay Doss, MD, a Duke Health rheumatologist. "Glomerular disease is now an area where we must be more vigilant."
Doss says the data already inform treatments for patients with severe psoriasis. "This study leads us toward switching sooner to more aggressive treatments if our patients do not respond well to initial therapies," he says.