Large AVM Rupture Is Discovered in an Otherwise Healthy Woman
Published
January 31, 2017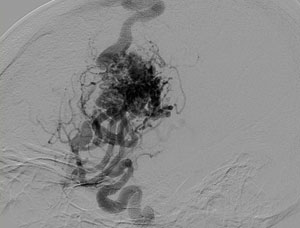 FIGURE 1. AVM rupture in the patient
A previously healthy and physically active, 38-year-old woman was riding a stationary bicycle when she started experiencing a sharp pain in her head, facial weakness, and difficulty speaking. Her husband called 911, and she was rushed to the emergency department (ED) at Duke.
Computed tomography (CT) in the ED revealed a large brain hemorrhage suspicious for a ruptured arteriovenous malformation (AVM; Figure 1). The emergency medicine physicians called in neurosurgeon Erik Hauck, MD.
Question: How did Hauck treat the patient?
Answer: Hauck performed an angiogram, which confirmed a 4.5-cm grade 3 AVM. He then performed embolization to control the bleeding, followed by surgery in conjunction with an intraoperative angiogram to remove the AVM. By the end of the same day, the diagnostic work-up and complex treatment were completed.
The risk of rebleeding is higher immediately after AVM rupture. So, if it's possible to perform curative treatment, there's no reason to wait, Hauck says. Surgery should ideally be performed within 24 hours of presentation.
"In this patient's situation," he says, "we thought we could remove the AVM completely, so after discussing with her and her husband, we chose to embolize and remove the AVM right away. By the end of that same day, she was essentially cured from the AVM."
After using embolization to control the bleeding, Hauck performed a craniotomy to remove the remaining blood product and the AVM. He then brought the patient into the angiography suite to conduct an intraoperative angiogram to ensure that the AVM was fully removed before completing surgery. The angiogram showed that the AVM had been removed but some microbleeding remained, so the team returned to surgery to "clean up" the area.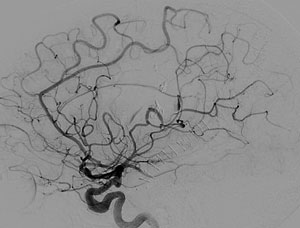 FIGURE 2. X-ray of patient's head following surgery showing absence of AVM
"The intraoperative angiogram is very important," explains Hauck. "It's critical to make sure everything is perfect while still in surgery. If you don't, there may be residual AVM, and there can still be bleeding and complications from that. We can't accept that possibility, even if everything looks perfect in surgery."
Following surgery, the patient was brought into the intensive care unit for recovery. CT conducted the next day showed no signs of AVM or complications (Figure 2), and, on postoperative day 2, she had her endotracheal tube removed. By day 8, she was discharged to acute rehabilitation for 7 days. 
Four months later, Hauck reports, the patient has made a full recovery: "She's really doing very well. We'll do 1 more formal angiogram after 1 year, but she's basically cured from the AVM. So, as frightening as this was when it came on, I don't think she'll have to worry about it ever again."