Innovative, Personalized Strategies for Pediatric Kidney Transplantation
Published
February 26, 2018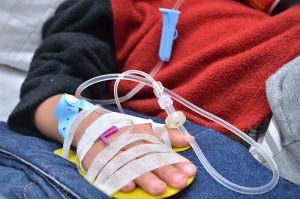 As part of its focus on advancing the care of transplant recipients, Duke's Pediatric Kidney Transplant Program is exploring novel immunosuppressive therapies in children and adolescents. For this age group, adherence to recommended immunosuppressive therapy after kidney transplantation is critical to successful outcomes. Using innovative strategies, such as therapeutics that target specific immune cells, simplified medication regimens, and biomarkers to monitor adherence, the transplant team at Duke is discovering methods to improve patient safety and minimize long-term toxicity to the kidney.
Standard immunosuppression involving multiple medications can be complex and challenging for children and adolescents, making nonadherence in this age group a major cause of rejection and allograft failure. To help improve patient outcomes, the Duke transplant team is exploring the effectiveness of monthly infusion therapy for adolescents using biologics that minimize antibody formation and provide effective immunosuppression without the need for corticosteroids and calcineurin inhibitors, which can both have unwanted side effects.
Why Refer Patients to Duke's Pediatric Kidney Transplant Program?
1- and 3-year patient and graft survival rates that are among the best in the nation
Personalized transplantation care
Novel therapies for immunosuppression, including steroid-free infusion therapy
Excellent outcomes in children of all ages, including infants weighing as little as 8 kg
Educational and behavioral transition support program for adolescents
Experienced team of transplant nephrologists, surgeons, and urologists who have cared for more than 200 pediatric kidney transplant recipients
For more information, visit the program website.
Eileen Tsai Chambers, MD, medical director of Duke's Pediatric Kidney Transplant Program, has studied nonadherence extensively and is leading Duke's efforts to implement, manage, and monitor steroid-free treatment regimens in children and adolescents. "We lose approximately 30% to 60% of transplanted kidneys due to nonadherence—they simply don't take their pills consistently," she says. "The ability to control immunosuppression with an IV infusion until adolescents are responsible is an appealing approach to nonadherence." A multidisciplinary transition support program for adolescents also helps them manage medications and continue their care as they mature from children to young adults.
Recognizing that each patient is unique, Chambers stresses that the team starts with a patient's individual immune profile and never "pigeonholes" him or her into one type of immunotherapy. For example, certain biologics can only be used in patients who are Epstein-Barr virus (EBV) seropositive, meaning they have been exposed to the virus that causes post-transplant lymphoproliferative disorder (PTLD). Along with other factors, this makes it necessary to carefully select patients for the infusion therapy. "We can use other IV medications and steroid-free protocols for young children and for adolescents who aren't EBV-positive to prevent PTLD," says Chambers.
Duke's program advocates for the use of living donors, complementing a thriving deceased donor program. It is ranked among the best in the nation for 1- and 3-year patient and graft survival rates. "Kidneys from living donors are generally better matched for children than those from deceased donors," says Chambers. "Surgeries can be scheduled ahead of time and dialysis can be avoided for some patients with chronic kidney disease."