In a study published in September 2018 in the British Journal of Sports Medicine researchers found that for up to two years following elective, arthroscopic hip surgery, a substantial number of patients reported new health issues, ranging from sleep problems, to arthritis, to cardiovascular disease.
Although such problems can be transient and diminish as full mobility returns, the findings suggest that patients and physicians should be prepared to manage a variety of complications over time, even when the surgeries themselves are considered a success.
The observational study examined military health system records of 1,870 former and current service members ages 18 to 50 undergoing arthroscopic hip surgery between 2004 and 2013. Patient records were collected for the 12 months prior to and 24 months after surgery.
"Even among this younger group, the number and frequency of these hidden complications that arose after elective hip surgery suggests we should be taking a more wholistic approach, proactively assessing patients for risks other than the standard surgical complications we more commonly look for," says Daniel Rhon, DSc, an adjunct professor at the Duke Clinical Research Institute and the study's lead author.
In their analysis, Rhon and colleagues identified incidences of mental health disorders, chronic pain, substance abuse issues, cardiovascular ailments, metabolic syndrome, arthritis, and sleep problems that were noted in the patients' medical records before and after their elective hip surgeries.
The results showed that the postoperative frequency of all comorbidities increased dramatically, as shown in the following chart: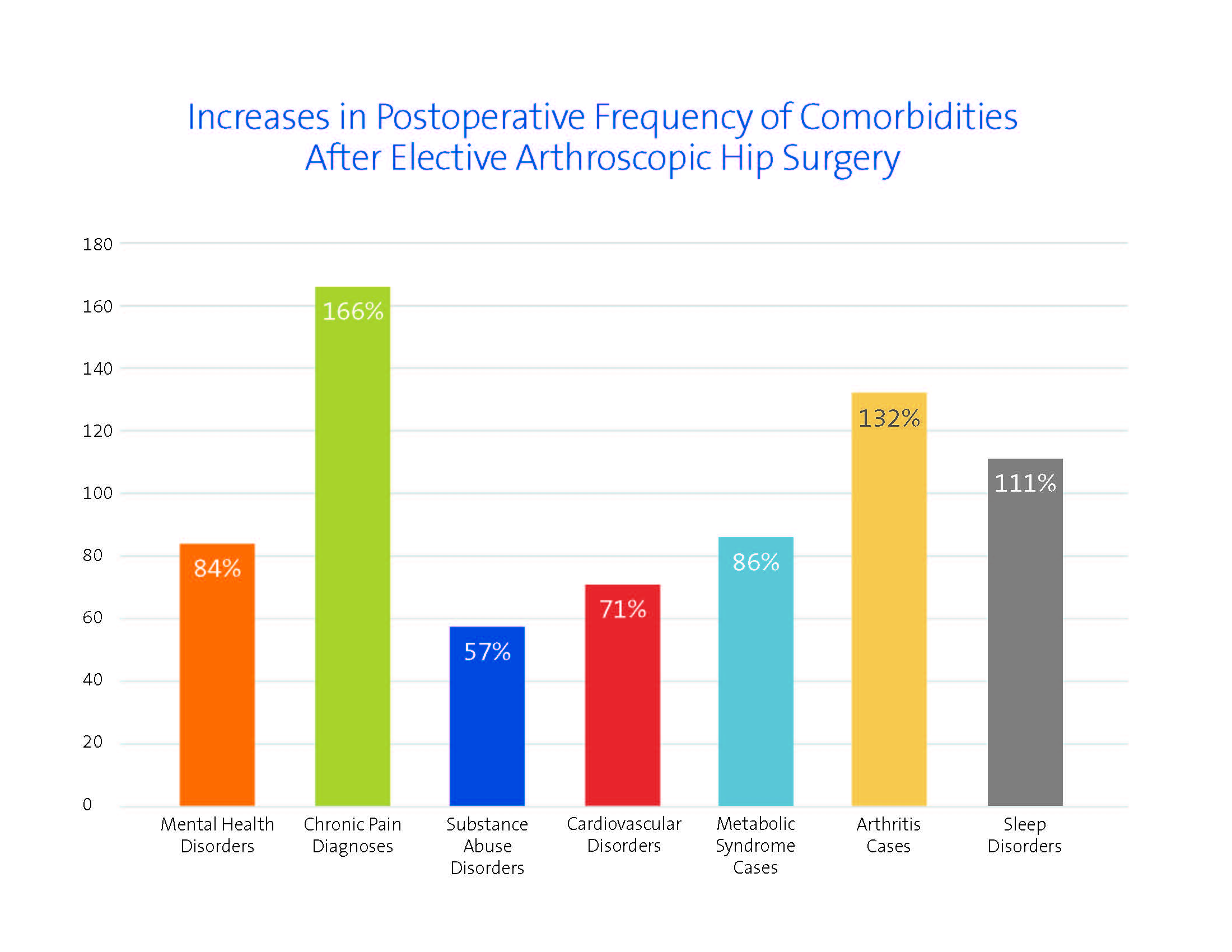 "Surgeons need to be aware of how hip pain and even successful surgery can be associated with significant comorbidities such as depression, difficulty sleeping, and altered interpersonal relationships," says Duke sports medicine orthopaedic surgeon Tally Lassiter, MD, MHA. "Athletes and patients often mourn their pre-injured condition and suffer loss of joy from their sports activities and athletic friendships."
Rhon says that sleep disruptions can be particularly problematic. Without proper rest, the sense of pain escalates, leading to a negative spiral of fatigue and pain that then depresses mood, energy levels, and general health.
"These issues are compounding on each other," says Rhon. "Our study serves as an important alert to both doctors and patients. Armed with this knowledge, we can be vigilant in addressing these problems earlier and potentially stopping others from developing."
Before hip surgery, Lassiter says that surgeons should be aware of specific risk factors to help avoid comorbidities: "Physicians should be aware of a patient's mental health, prior exposure to narcotics, and their social safety net," he says. "Minimizing the life alterations of surgical treatment can assist in early resumption of a patient's 'normal' pre-injured life."
Lassiter also encourages surgeons to partner with patients to explain the often-long road ahead after surgery and counsel them on realistic expectations with reassurances of support along their path to recovery.