The increasing complexity of drugs used to treat cancer has heightened the risk of kidney injuries prompting the growth of a specialty focused on preserving kidney function in patients undergoing cancer treatments.
A multidisciplinary specialty involving nephrologists, urologists, and oncologists, onconephrology has grown in recent years as the number of cancer survivors has increased. David I. Ortiz-Melo, MD, a Duke nephrologist and medical director of DaVita Bull City Dialysis, helps coordinate the onconephrology team at Duke.
"The clinical spectrum of onconephrology is incredibly broad," says Ortiz-Melo. "Oncology has developed so fast that we needed a focused and comprehensive approach to help understand cancer-related kidney complications in this complex patient population."
Monitoring the effect of oncology drugs on the kidney is a key aspect of the specialty, Ortiz-Melo says. "As an onconephrologist, my goal is to find ways to minimize kidney injury without compromising the administration of effective cancer therapies."
Image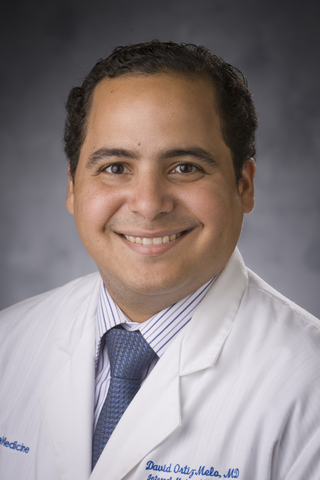 Cancer survivors present with many renal health challenges," Ortiz-Melo says. "Because we see a wide range of complications, it is helpful to bring together different specialists to review these conditions, make recommendations, and hopefully improve the clinical outcome of our patients.
David I. Ortiz-Melo, MD
Specialists in onconephrology focus on the biological processes of cancer-mediated nephrotoxicities as well as the effects of traditional chemotherapies and novel targeted therapies. The role of dialysis for cancer patients with renal failure must also be carefully monitored, Ortiz-Melo says.
The increasing incident rates of AKI and chronic kidney disease (CKD) following the use of chemotherapeutic agents highlight the need for improved kidney protection. AKI is one of the most common presentation of kidney disease in cancer patients.
Onconephrology specialists treat any form of kidney injury that develops in patients with cancer, either due to cancer itself or its therapy. The onco-nephrology team focuses on four aspects of treatment:
Cancer-mediated nephrotoxicity
Therapy-mediated nephrotoxicity
Nephrotoxicity unrelated to cancer diagnosis
Impact of kidney disease on cancer management
Ortiz-Melo says that several chemotherapeutic agents are associated with acute and chronic kidney injuries. Novel targeted therapies for example, such as anti-vascular endothelial growth factor (anti-VEGF) agents, have been associated with proteinuria, hypertension, and thrombotic microangiopathy. Immune checkpoint inhibitors, which have been increasingly used in several types of advanced malignancies, can cause AKI in rare occasions due to allergic interstitial nephritis.
"Cancer survivors present with many renal health challenges," Ortiz-Melo says. "Because we see a wide range of complications, it is helpful to bring together different specialists to review these conditions, make recommendations and hopefully improve the clinical outcome of our patients."