Glycemic Control in T1DM Less Effective With Postprandial Insulin Dosing
Published
November 20, 2017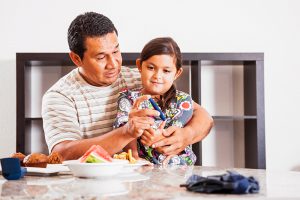 The director of diabetes services at Duke encourages health care professionals working with patients with type 1 diabetes mellitus (T1DM) to share the results of a new study pointing out the risks of insulin control associated with postprandial dosing.
Susan E. Spratt, MD, says providers should engage all patients proactively to confirm their preprandial dosing practices and encourage changes, if necessary. Bolus dosing after a meal by patients with T1DM is associated with higher HbA1C levels and may require a larger insulin dose than would preprandial dosing, according to a study published in Endocrine Practice.
To further broadcast the results of the study, Spratt published an editorial in Endocrine Today in July 2017.
Spratt emphasizes the finding that patients who take insulin postprandially demonstrate poorer diabetes management skills, as evidenced by decreased testing frequency. "It remains somewhat unclear whether the risks are created by taking the insulin postprandially or by the poor self-management skills of the patients," Spratt says. "I suspect it's both."
This may be because the injection of insulin postprandially may result in the peak insulin dose failing to match peak carbohydrate digestion, she says. Patients who adjust their insulin dose based on postprandial levels are adopting a reactive approach to glucose management, she says.
"We prefer patients to be proactive with insulin dosing," she says. "That means checking glucose prior to eating and dosing insulin based on planned carbohydrate intake and preprandial glucose."
The study reviewed dosing practices and HbA1C levels for 21,433 adults and children with T1DM included in the Type 1 Diabetes Exchange Registry. Rapid-acting insulin was used by 99% of the participants.
Despite their use of rapid-acting insulin analogs, children who dose postprandially are also characterized as having higher glycemic levels and a greater likelihood of a history of severe hypoglycemia and diabetic ketoacidosis, the study concludes.
Postprandial insulin dosing may be useful for patients with gastroparesis, Spratt says, or when patients are unsure when they are going to eat or forget to take their insulin.
Rapid-acting insulin analogs have faster onsets of action and achieve peak concentrations more quickly than regular insulin, Spratt says. But she cautions that even analog insulins work best when given with meals. Continuous glucose monitoring has demonstrated that some patients must dose their insulin 15 to 30 minutes before a meal to match carbohydrate digestion, she adds.
Although the study focused on patients with T1DM, Spratt suggested that the results may also be applicable to patients with type 2 diabetes mellitus who take insulin with meals.