Genomic Research Could Expand the Therapeutic Application of Aspirin
Published
December 20, 2016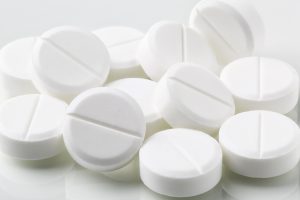 A newly identified mechanism may explain the therapeutic benefits of aspirin, according to a study published online August 14, 2016, in EBioMedicine. This finding may accelerate the development of additional applications for aspirin, a drug that's been in use for more than 100 years.
By using a novel approach to study the effects of aspirin, lead author Deepak Voora, MD, an associate professor in Duke's Center for Applied Genomics & Precision Medicine, says that the research identified a previously unknown mechanism of action not predicted by the already known pharmacologic properties of the drug.
The pain-reducing and blood-thinning effects of aspirin have long been traced to the ability of the drug to block cyclooxygenase-1 (COX-1), an enzyme involved in inflammation and blood clotting.
"But COX-1 inhibition only partially explains aspirin's benefit in cardiology, and it does not appear to be relevant in cancer research," Voora says. "We just don't know that much about aspirin, despite its long history."
Focusing on a pattern of gene activity identified in their previous research described as an "aspirin-response signature," Voora and his fellow researchers examined a network of genes correlated with platelet function and myocardial infarction.
The gene network appears to hold the key to the therapeutic value of aspirin in cardiology and cancer prevention.
"This approach to comprehensively evaluate the actions of a drug using genomic data—as we have done here with aspirin—is a paradigm shift that could change how drugs are developed and positioned for clinical use," says coauthor Geoffrey S. Ginsburg, MD, PhD, director of Duke's Center for Applied Genomics & Precision Medicine, who, along with Voora, is a member of the Duke Division of Cardiology.
"If we take 1 step back to gain perspective, it's likely that all prescribed drugs are 'promiscuous,'" Voora says. "They have on-target and off-target effects we may not realize. The combination of these effects may explain why some people get more benefit and others get side effects."
Pharmacogenomics research into the effects of aspirin, Voora says, represents an important step toward a deeper understanding of the diverse, beneficial effects of aspirin use, and may lay the foundation for better understanding of its risks.
"Genomics research helps us understand the effects of aspirin on genes and vice versa," says Voora. "This research also helps us find uses for aspirin in other diseases, to develop tools to improve our use of it, and to find more effective drugs that mimic it," Voora says.
Looking into the future, Voora envisions a diagnostic test that clinicians could use to monitor the cardiovascular benefit of aspirin—a development that could lead to precision prescribing and targeted therapies.
In addition to Voora and Ginsburg, study authors from Duke include Rachel Myers, PhD, Emily Harris, and Thomas L. Ortel, MD.