Genetic Workups Can Improve Treatment of Glomerular Disease
Published
January 3, 2017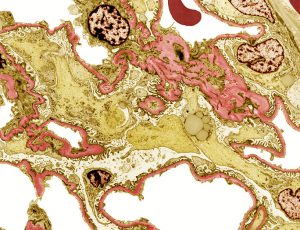 Genetic workups for focal segmental glomerulosclerosis (FSGS) can help identify specific diagnoses and may lead to the future development of individualized, targeted therapies. However, their use must be guided by the clinical scenario and the genetic architecture of the patient population.
Rasheed A. Gbadegesin, MD, a Duke researcher who specializes in nephrotic syndrome and end-stage renal disease (ESRD), presented his findings on the utility of genetic testing in the clinical evaluation of patients with FSGS during the American Society of Nephrology's annual meeting in November. Members of his team also presented recent genetic research findings at the meeting.
Gbadegesin presented 3 cases of FSGS to illustrate scenarios when genetic testing may or may not be indicated. Collectively, the cases demonstrated that the effectiveness significantly varied.
At Duke, Gbadegesin's research focuses on using genomic research tools to understand the cause and clinical course of FSGS and to identify novel therapeutic tools for children and adults with FSGS and other forms of nephrotic syndrome—conditions that contribute to the $40 billion spent annually to treat and manage ESRD.
Genetic research, he says, can benefit renal disease across the age spectrum.
Because genetic testing adds financial expense to the treatment of FSGS and related kidney disorders, Gbadegesin works to ensure that the techniques are efficiently deployed. Widespread availability of next-generation sequencing, he says, will improve our understanding and treatment of glomerular disease.
"It's essential in genetic research to retain one's perspective," says Gbadegesin. "We know there are over 40 genetic causes of FSGS and nephrotic syndrome, but we are just getting started on the collaboration necessary to expand our knowledge and develop a precise approach to dissect the mechanisms by which these genes may cause FSGS and nephrotic syndrome."
Gbadegesin and his colleagues have built upon work initiated at Duke by the late Michelle Winn, MD, who identified familial forms of FSGS and described a mutation in TRPC6 as a cause of FSGS—a major discovery that changed the direction of FSGS genetic research. Winn did her research at the Duke Center for Human Genetics and was a founding faculty member of the Duke Molecular Physiology Institute.
Following in Winn's footsteps, Gbadegesin and colleagues have identified new genetic causes of FSGS and other kidney diseases (ANLN, ARHGAP24, TNXB) and reported a novel mode of inheritance for a known genetic cause of FSGS (WT1).
The ARHGAP24 discovery was possible through collaboration between researchers at Duke and Washington University in St Louis.
Gbadegesin and his team have also focused on identifying genetic risk factors for the more common childhood idiopathic nephrotic syndrome. This global collaboration yielded the first genetic risk locus for the condition.
The genetic kidney disease research team led by Gbadegesin includes Gentzon Hall, MD, PhD, an instructor in the Division of Nephrology, as well as postdoctoral associates, research analysts, and students. "The ultimate goal of this wonderful team is to improve the care of children and adults living with this devastating condition," he says.  
Gbadegesin encourages major medical research centers to more effectively share genomic research data to accelerate the discovery of new and specific treatment options for kidney diseases.