Gender Dysphoria in an Adolescent Male
Published
November 24, 2015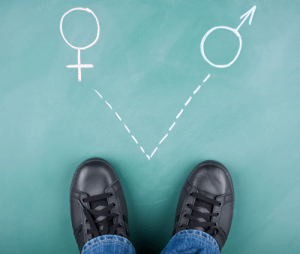 A 14-year-old boy experienced confusion about his gender from a very young age. He and his parents had been in family therapy for several years. Although the child's puberty began late, his gender dysphoria intensified when he underwent puberty and he became upset at the incipient changes in his body.
A family therapist had done an admirable job of helping the patient and his parents work through this process, but, as the patient became aware of pubertal changes, he became distressed and depressed. Thus, the therapist referred the patient to Deanna W. Adkins, MD, a pediatric endocrinologist at the Duke Center for Child and Adolescent Gender Care.
Question: A child with gender confusion who approaches puberty often becomes uncomfortable with the changes he or she is beginning to undergo. How might a clinician respond?
Answer: Hormonal treatment to suppress puberty gives children with gender dysphoria time to consider their choices for the future. Hormonal postponement of puberty is reversible, whereas the bodily changes of puberty are not. Thus, this patient was prescribed injections of leuprolide, a gonadotropin-releasing hormone (GnRH) agonist.
Many children in similar situations go through stages of wondering and begin to try to sort through their feelings. This patient considered at first whether what he felt was homosexuality, but eventually told his parents that he thought he was a girl.
Approximately 75% of children who initially express concern about gender dysphoria decide to forego any medical intervention or transition, so it is important to give them time to be certain about their choices.
Girls and boys will begin experiencing pubertal signs at about 9 years and 12 years of age, respectively. Because pubertal suppression is the first step in the treatment process, says Adkins, "We try to suppress their puberty to give them plenty of time to figure out for sure what their thoughts are and work with psychiatrists and psychologists."
She explains that children with gender dysphoria may be treated with a GnRH agonist because it mimics a hormone from the hypothalamus. "Its effects are completely reversible," says Adkins. Thus, patients with gender dysphoria may be given a GnRH agonist until they are approximately 16 years of age and, she adds, "have nothing that they can't change completely back if they decide they are wrong."
Guidelines suggest waiting until children with gender dysphoria are at least 16 years of age before starting them on any cross-gender steroids.
When prescribing a GnRH agonist in this patient population, bone mineral density should be observed because, Adkins explains, "that is something that patients might lose when they have no sex steroids on board for an extended period of time."
The patient is now 17 years of age, so he has begun receiving low doses of estrogen, and the Duke team will gradually increase the doses to the estrogen levels of girls who are born female. Adkins adds that the patient is feeling much better with the treatment, and whether the patient will make any changes beyond hormone treatment is a question for the future.
Adkins explains that this patient is likely to benefit from the team approach at the newly opened Duke Center for Child and Adolescent Gender Care, which is unique in the Southeast. "It is a multidisciplinary clinic that includes psychiatry, psychology, clinical social work, and urology as the core team. We also have adolescent medicine, pediatric surgery, genetics, and neonatology all collaborating with us."
With its breadth of expertise, the clinic is prepared to treat children with a broad range of challenges relating to gender, whether it is a genetic problem with making hormones, variations in presentations of genitalia, chromosome abnormalities like Klinefelter or Turner syndrome, gender dysphoria, or other conditions. "The unifying theme," Adkins explains, "is that these children have some abnormality in their ability to have a gender presentation that suits their brain."