Fostering Long-Term Doctor-Patient Relationships to Improve Outcomes
Published
January 17, 2017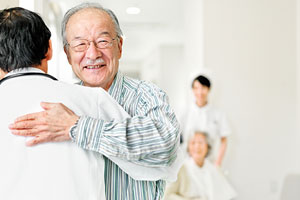 Many patients prioritize having meaningful relationships with their health care professionals above cost, accessibility, and other factors. So, how well do you really know your patients and their problem lists, their personalities, communication styles, and lives?
A growing body of evidence suggests that this type of knowledge and the continuity of care that comes with a strong doctor-patient relationship can contribute to better control of chronic conditions, fewer visits to the emergency department and hospital stays, and healthier outcomes.
And, although a strong doctor-patient relationship may be more challenging to quantify than glycated hemoglobin or blood pressure, forward-thinking health care systems recognize that it is equally important to a patient's overall well being.
Ask Patients What Matters to Them
Clinicians and patients agree that relationships and communication are important concepts, but both also agree that these ideas are difficult to quantify. The health care landscape is transforming from provider- to patient-centered, so putting patients at the forefront of each decision relating to their care can improve their experience, increase trust in their doctors, and foster better outcomes.
Simply put: Ask for the patient's perspective. To encourage patients, ask them open- rather than close-ended questions, and avoid using medical jargon. Take the time to thoughtfully listen to their answers and reflect on their wishes, and then make time for any follow-up questions they may have.
Although these tips may appear simple, John B. Anderson, MD, a family practice physician at Duke Primary Care Oxford in North Carolina, acknowledges that they are often not second nature to clinicians.
Prioritize the Relationship
Duke Health has invested significant resources in the assessment of such relationships. Using data from the Clinician and Group Consumer Assessment of Healthcare Providers and Systems survey, Duke tracks data points indicative of patient level of satisfaction with physicians, clinical care teams, and the practice as a whole.
"We pay particular attention to our patient experience scores at the practice and provider levels," says Anderson. "We look at how well our physicians communicate with their patients, what access is like, and whether patients understand their medications and their plan of care."
The data aren't simply numbers on a page: Duke continually analyzes the data to look for new opportunities. "We've begun redesigning how we do our work at the practice level to create care teams that are intimately involved in managing patients longitudinally," says Anderson.
High-Touch and High-Tech
There are also ways to combine high-touch and technology strategies. For example, MDVIP, a physician network based in Boca Raton, FL, encourages its physicians to use social media to share information and interact with patients.
"We give them the tools to support relationships," says Andrea Klemes, DO, chief medical officer of MDVIP. "It helps patients see you as a real person." MDVIP physicians also connect with patients in other ways, such as through cooking classes, weekend bike rides, and grocery store outings.
To encourage personal interaction, patients are asked to share one new thing going on in their lives when they check in for an appointment, such as a child's upcoming wedding. A receptionist enters that information into the patient's record so the physician can ask about it during the appointment. "Patients say, 'Wow, they actually care about me,'" says Klemes.
Training Staff
Fostering long-term doctor-patient relationships requires a commitment to training at all levels of the care team. "All staff have specific training related to patient communications and interactions," explains Anderson. "Duke is continuing to develop training related to how physicians interact with patients."
For example, staff are learning to follow a patient-communications model called RELATE (Reassure, Explain, Listen, Answer questions, Take action, and Express appreciation) that encourages better physician interaction with patients.
Never Stop Caring
Of course, physicians have never stopped caring about their patients. But, in today's data-driven and time-crunched practice environments, it's easy to relegate the doctor-patient connection to the back seat. With increased attention to high-touch strategies and the creative application of high-tech innovations, physicians can have it all—better outcomes data, greater practice efficiency, and improved doctor-patient relationships.