A Fireworks-Related Injury Blinds a Patient
Published
January 31, 2017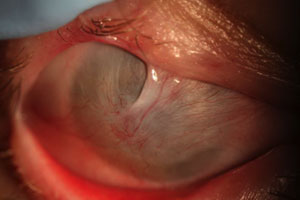 FIGURE 1. Right eye after injury
While setting off fireworks with some friends, a 35-year-old woman was hit in the right eye with a bottle rocket, resulting in significant chemical and thermal injury that left her unable to see anything but hand motion.
She underwent a series of eyelid surgeries and scar revisions, but significant scar tissue remained, and her visual acuity did not improve (Figure 1). She was referred to Melissa Daluvoy, MD, ophthalmologist at the Duke Eye Center.
Question: How did Daluvoy restore the patient's vision?
Answer: After performing surgery to remove conjunctival scar tissue with the help of oculoplastic surgeon Jason Liss, MD, Daluvoy used healthy stem cells from the patient's left eye to perform autologous limbal stem cell transplantation. Seven months after the operation, the patient's corrected visual acuity was 20/50 (Figure 2).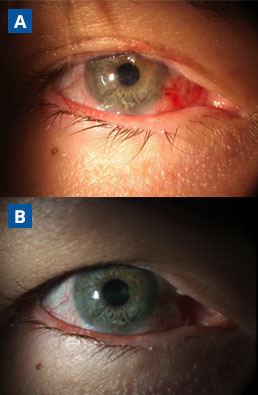 FIGURE 2. Right eye seen postoperatively at (A) 7 months and (B) 18 months
This patient's case was relatively unique among fireworks-related injuries in that only 1 eye was affected, Daluvoy notes. Had both eyes been injured, she wouldn't have had the option of autologous transplantation, which is preferable because there's no risk of rejection.
Daluvoy transplanted autologous stem cells at the 6- and 12-o'clock positions in the patient's right eye. She also started the patient on topical steroids and antibiotics.
"Then you basically have to wait for these cells to 'win the race,'" Daluvoy explains. "You need the new cells, since they're healthier and faster, to hopefully produce clear cells that cross the center of vision so that vision improves."
By 3 weeks after the surgery, the transplanted cells were starting to enter the patient's center of vision (Figure 3). Her vision was slower to return, but at 4 months, her visual acuity was 20/200 uncorrected and 20/70 with correction.
To provide a barrier to blood vessels that began to regrow at the untransplanted 3- and 9-o'clock positions, Daluvoy placed an amniotic membrane at the limbus approximately 2 months after the original surgery.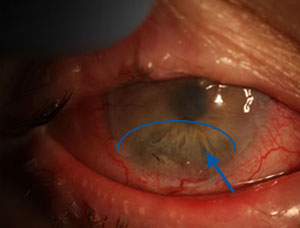 FIGURE 3. Three weeks postoperative, the transplanted stem cells begin to enter patient's center of vision in her right eye. Blue arrow and half-oval indicate the clearing area
The patient continues to have periodic neovascularization at the 3- and 9-o'clock positions that is kept in check with laser treatment and injections of bevacizumab.
Daluvoy notes that the patient's condition will require ongoing monitoring: "This was a good treatment, but it's not a cure. Because it's not possible to do a 360-degree autologous transplant without compromising the other eye, she'll always have to maintain these cells in a good environment for them to continue working."
The patient has not wanted to go on the systemic immunosuppressants it would require to replace the cells in the other areas, Daluvoy says, but, in the future, she may opt to undergo deceased or living-related donor transplantation, which would serve as a more permanent solution to the neovascularization that recurs. Daluvoy is one of few ophthalmologists in the country who performs this procedure.