Falling Umbrella Fractures Orbital Bone
Published
December 20, 2016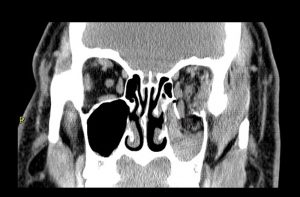 A large outdoor café umbrella toppled by high winds struck a 29-year-old man in the eye, causing a comminuted fracture of the orbit. The blow forced bone splinters into the extraocular muscle.
The physically active US resident, who was traveling abroad when the accident occurred, was hit by one of the heavy metal rods supporting the umbrella fabric. The rod was about 1 cm wide.
Following emergency treatment and a hospital stay, the patient's condition stabilized without surgery. He returned home but experienced significant double vision and headache. As an economist and researcher, the patient had difficulty concentrating.
After months of consultations with ophthalmologists and otolaryngologists, the patient sought out David W. Jang, MD, a head and neck surgeon at Duke specializing in endoscopic sinus and skull-base procedures.
Question: What procedure did Jang use to decrease the patient's double vision?
Answer: By performing transnasal endoscopic surgery, Jang was able to remove the bone fragments from the muscle tissue. Following the outpatient procedure, the patient's double vision was dramatically decreased and his vision improved.
"Though minimally invasive endoscopic procedures are common, this one was unusual because of the deep comminuted fracture and the bone fragments embedded in the eye muscle," says Jang.
"We were able to access the orbit and eye muscles using the endoscopic approach and avoid a riskier, more invasive procedure," he adds.
The patient regained the ability to read, conduct research, and prepare papers—all essential aspects of his professional responsibilities. He also was able to resume kayaking, mountain hiking, and other outdoor passions.
Although Jang and other health care professionals note that the patient may have naturally adjusted to the double vision over time, the removal of the bone fragments was an essential step in a full, prompt recovery. The procedure also reduced the likelihood of experiencing future complications.