Exploiting Cancer's Proclivity for Copper to Treat Prostate Cancer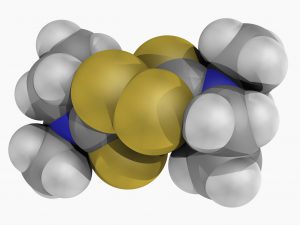 In July 2017, Duke investigators began enrolling patients in a phase 1 clinical trial (NCT02963051) to test the safety of a novel therapy for prostate cancer based on the proclivity of prostate cancer cells for copper.
The therapy was developed after a 2014 preclinical study by Duke researchers showed that, when the compound disulfiram is coadministered with copper, the drug can specifically target prostate tumor cells in castrate-resistant models of the disease.
Although many studies have shown that tumor cells have increased copper intake, the Duke study uncovered a unique approach to treatment, says Duke medical oncologist Daniel George, MD, who was involved in the preclinical study and is a co-investigator on the clinical trial.
"We first tried to limit copper in prostate tumor cells. But the doses of chelating agent we had to use to get the copper levels low enough would have been too toxic for patients," he says. "So we turned the concept on its head: Feed the tumor copper—give it all the copper it wants—and then screen for drugs that kill cancer cells when they're loaded with copper."
The screen revealed that disulfiram, which can kill tumor cells on its own, is much more effective when tumor cells are loaded with copper. Particularly exciting, George says, was that the treatment also targeted hormone-resistant prostate cancer cells.
"What has us excited is that this is something we can use when all our hormonal therapies have failed," George says. "Rather than trying to shut down the hormone receptor, we can use it to increase copper uptake in the tumor."
In addition to testing the new treatment strategy on traditional patients whose disease has failed standard hormonal therapies or chemotherapies and have bone-dominant disease, the new clinical trial includes 2 other cohorts: those with visceral disease and those with neuroendocrine prostate cancer.
The treatment may be effective against visceral disease, George says, because disulfiram is likely absorbed at high concentrations in the gut and liver. Patients with neuroendocrine prostate cancer may also see benefit, because neuroendocrine prostate cancer responds to platinum-based treatment, a therapeutic strategy that exploits the copper transporter.
George notes that the trial is not only novel in its treatment strategy but also in its funding sources. Rather than being supported by an industry partner, the trial is funded by crowdsourcing. One such charity is Give 1 for Dad, which was created by the son of a man with prostate cancer. Additional funding is being provided by a grant awarded to Tian Zhang, MD, a junior faculty member in George's group. Any treatments developed as a result will therefore be generic and potentially more affordable.
Also exciting, he says, is that, because other cancer cell types also uptake high copper levels, if the treatment strategy works, then it could be modified to treat other types of cancer such as melanoma and breast cancer.
SaveSaveSaveSave