Expert Panel Shares Insights on Guidelines for Bladder Cancer
Published
January 3, 2017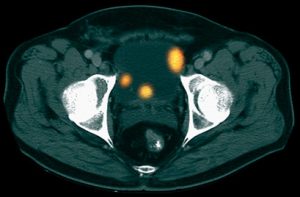 The guidelines from the National Comprehensive Cancer Network (NCCN) have been revised to provide important, updated recommendations for the treatment of bladder cancer. Insights from the multidisciplinary NCCN expert panel were published in the October 2016 issue of the Journal of the National Comprehensive Cancer Network.
The article highlights updates to the recommendations for treatment with intravesical bacillus Calmette-Guérin (BCG), perioperative systemic chemotherapy, and checkpoint immunotherapies, and discusses obstacles to implementing the panel's recommendations in practice.
"The NCCN guidelines form the basis of what is considered acceptable management of bladder cancer, and the new guidelines contain several important updates," says Brant Inman, MD, a urologic oncologist at Duke and an expert on the panel.
Among the updates is guidance on which patients will benefit from intravesical BCG. Transurethral resection of bladder tumor (TURBT) remains the standard of care for initial tumor resection and staging in all patients with bladder cancer. Following TURBT, the appropriate treatment depends on the extent of muscle invasion, according to the panel. In patients with non–muscle-invasive tumors, radical cystectomy or intravesical therapy with BCG, for example, may be appropriate. For patients with muscle-invasive tumors, more invasive treatment such as systemic therapy may be required.
The panelists caution that BCG induction is overused in patients with low-grade disease who have a low risk of disease progression, advising that the treatment be restricted to patients with stage Tis, high-grade Ta, or T1 tumors.
The NCCN advises administering a second course of BCG induction for those who have responded to the previous course but states that no more than 2 courses should be used. Patients whose cancer is unresponsive or who experience an incomplete response to BCG have several options, including other intravesical agents, cystectomy, or participation in a clinical trial.
The guidelines also highlight the optimal use of perioperative chemotherapy for muscle-invasive disease, recommending neoadjuvant chemotherapy before cystectomy for stage T2, T3, and T4a tumors. The panel adds that, although the efficacy of adjuvant therapy is not as well established, it is gaining increased acceptance for patients with T3- or T4-staged disease or for those with positive nodes.
Finally, the article discusses several checkpoint inhibitors awarded breakthrough status by the US Food and Drug Administration. The guidelines include 1 such drug—atezolizumab, which targets programmed death ligand 1 (PD-L1)—as second-line systemic therapy for locally advanced or metastatic disease after platinum-based therapy.
Having published the first pioneering work on PD-L1 in bladder cancer in 2007, Inman is thrilled to see his finding lead to such a large advance in the field and is hopeful about the future of bladder cancer treatment.
"I believe that the management of bladder cancer is going to change rapidly in the next few years," he says. "This is due to the development of several new technologies—both drugs and devices—that will make bladder cancer easier to treat. These advances will likely impact both early-stage noninvasive bladder cancer as well as more advanced invasive and metastatic bladder cancers."