Enhancing Cultural Competence in Your Practice
Published
November 6, 2017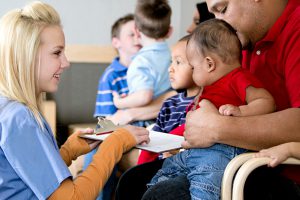 Today, enhanced National Standards for Culturally and Linguistically Appropriate Services (CLAS), the Affordable Care Act, The Joint Commission, and other policies and organizations regulate or mandate some elements of cultural competence—the ability of clinicians and organizations to provide care based on an understanding of how factors such as patient values, beliefs, and behaviors are shaped by aspects including race, ethnicity, gender identity, sexual orientation, socioeconomic status, physical and mental ability, and occupation.
"Ultimately, what cultural competence comes down to is creating an environment of trust in which doctors and their staff connect with patients at a human level," says Jim Kinsey, director of member experience at Planetree Inc, a global nonprofit organization that partners with health care institutions to transform care delivery and enhance cultural competence.
Kinsey offers the following tips for integrating and enhancing cultural competence in physician practices.
Be an Active Listener
"In patient focus groups, we hear a lot about people feeling as if their voice is trivialized," says Kinsey. Physicians can improve this perception—and thereby adherence and outcomes—through active listening. Techniques such as backchanneling, repeating all or part of what a patient has said, and asking relevant questions demonstrate that you've heard, understood, and are interested in what your patient is communicating.
Attend to Your Staff
Cultural competence isn't just for the examination room. In fact, it begins the moment a patient enters the front door, which means that your staff should be just as committed as you are.
"There is a perception among patients that, although their doctor may be caring and compassionate, their front office and other support staff are not," says Kinsey. Offering staff training to increase cultural competence can result in an office tone that resonates with patients.
Consider Health Literacy
Consider language proficiency and health literacy when communicating with your patients. Written and verbal information should be presented in language that is clear and easy to comprehend by your patient population.
Use Data to Drive Change
"You may discover through analysis that access is difficult for some patients, for example," says Kinsey. "But the next step is determining and following through with what to do about it."
Be Sensitive to Gender Expression and Identity
People who don't conform to established gender norms or roles often face stigma, discriminatory practices, or social exclusion, all of which can negatively affect patients' health. "In the context of cultural competence, these issues need to be part of the discussion between doctors and patients," says Kinsey. "It goes back to what we do to create an environment of trust and connection."