End-of-Life Planning Is Now Billable
Published
August 16, 2016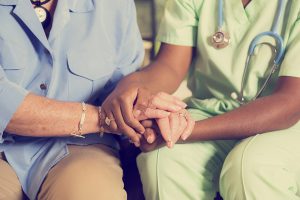 The need for more forethought, organization, and patient input during end-of-life decision making has long been apparent to many in the health care field. According to a survey, 90% of adults in the United States would prefer to receive hospice care in their homes if they were terminally ill, but about 33% of Medicare beneficiaries actually spend their last days at home. In addition, a recent survey found that, although 89% of patients believe that their physicians should discuss end-of-life care issues with them, only 17% have ever had such a conversation.
Part of the problem is simply lack of time. Overscheduled and overworked, many health care professionals often put off engaging in these difficult and sometimes lengthy conversations. Once a chronic condition has run its course and become a medical crisis, loved ones, caregivers, and support staff must often make rushed decisions.
Another barrier is that, up until early 2016, most physicians could not bill for discussing advance care planning (ACP) with patients—a situation that the 2016 Medicare physician fee schedule seeks to rectify. As of January 2016, the schedule includes 2 Current Procedural Terminology (CPT) codes to which physicians can bill for ACP: code 99497 covers a discussion with the patient, a family member, or a surrogate for up to 30 minutes, and add-on code 99498 covers an additional 30 minutes of planning.
The initial discussion pays $86; the add-on pays $75. The codes are billable under Medicare Part B and can be used by health care professionals who bill Part B for their services.
Many in the palliative care field hope that the new codes will lead to greater physician involvement at earlier stages in the disease course.
"We feel that earlier discussions about wishes and goals are always a good thing," says Paula V. McKinzie, NP, ANP, who specializes in palliative care at Duke. More attention to ACP can help relieve pressure from overburdened hospice care systems, she believes.
Multiple Steps
End-of-life discussions mainly seek to reach 2 goals: finalizing advance care directives and establishing durable power of attorney for health care (also known as a health care proxy or surrogate, depending on your state).
Because the former requires guiding patients through available treatment options, clinicians are most directly concerned with creating an advance directive document.
ACP involves multiple steps designed to help patients learn about the options available for end-of-life care, determine which types of care will best fit their personal wishes, and how to share these decisions with family, friends, and clinicians.
This is seldom a stand-alone conversation; most patients require a series of meetings to define their end-of-life wishes. "We consider it a process," notes Robin Turner, MD, medical director at Duke HomeCare & Hospice.
Importantly, advance directives should continue to evolve as patient values and priorities change with age, experts say. The American Bar Association suggests that wishes should be updated whenever any of the "5 Ds" occurs:
The patient reaches a new decade in age
The death of a loved one
A divorce
The diagnosis of a major condition
A decline in a medical condition or functioning
Taking Precautions
When offering ACP to patients, it is important to remember the political and emotional elements involved. Making end-of-life discussions reimbursable was originally part of the Affordable Care Act, but it was withdrawn from the legislation when some claimed it would result in "death panels" convened to reduce health care costs by culling out the sickest seniors. Therefore, the Centers for Medicare & Medicaid Services carefully parsed public opinion last summer when the new codes were proposed.
Most medical organizations, including the American Medical Association, supported them. Indeed, the Centers for Medicare & Medicaid Services noted that "the vast majority of [public] comments indicate that most patients desire access to ACP services as they prepare for important medical conditions."
However, a 2013 survey found that 35% of respondents older than 65 years incorrectly believed that the Affordable Care Act created special panels with the power to make end-of-life decisions for Medicare beneficiaries. Thus, take special care when broaching this topic with patients.
Another precaution to take is to stress the importance of a health care proxy, says Turner. This ensures that a designated person can make decisions if the patient becomes unable to do so.
Because choosing this person is such a personal decision, physicians will be unlikely to offer much guidance. "But talking about how important this choice is should be incorporated into these discussions," she explains.
Turner admits that there may be a learning curve involved in integrating primary and hospice care, but it will ultimately be worthwhile: "Overall, this will serve as a catalyst for further education and discussion around end-of-life issues for both patients and providers."