Sixteen months after performing the nation's first adult heart transplant using the donation after circulatory death (DCD) protocol, the Duke Heart Transplant Program recorded its 50th successful DCD procedure.
The milestone DCD transplant, performed on March 7, 2021, highlights the ongoing success of a perfusion innovation that specialists predict will increase by 30% the number of available hearts in the U.S.
The Donors After Circulatory Death Heart Trial evaluates a portable system (TransMedics Organ Care System, TransMedics, Andover, MA) that transports the donated heart in a warm, perfused state with the donor's blood in a medium that contains steroids, antibiotics, adenosine, vitamins, and other medications.
As one of five participating centers, Duke has one of the highest DCD volumes in the trial. Overall in 2020, DCD heart transplants represented approximately a third of the heart transplants at Duke.
Image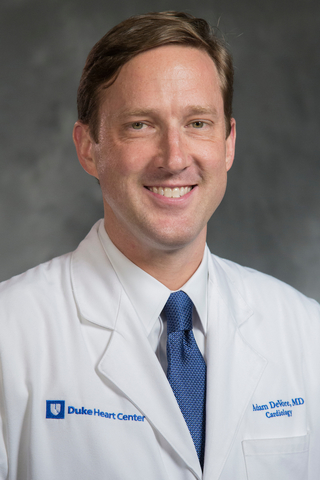 What is most significant is the pace of growth in our DCD program and the potential long-term impact to heart transplantation overall. By completing 50 procedures in just 16 months, we are demonstrating the significance of this program and its impact by making more hearts available.
Adam DeVore, MD, MHS
Collaborating to Identify Patients Who Will Benefit
Duke's regional heart failure (HF) clinic in Raleigh played a key role in managing the patient's advanced HF symptoms and directing the individual to the Duke transplant team for assessment and eventual inclusion on the waiting list. The HF clinic is part of the Heart Care Plus+ collaboration between Duke Heart and WakeMed.
The 53-year-old patient who received the 50th transplant presented with idiopathic advanced HF, says Stuart D. Russell, MD, a transplant cardiologist who directs the Duke HF clinic. "This was a situation in which we consulted on the patient and recognized the need for immediate care," Russell explains. The HF clinic team stabilized the patient until a donor heart became available.
Approximately 32 patients cared for by the Heart Care Plus+ HF clinic have undergone heart transplants from Duke. "The benefit of this collaboration is that it allows us to identify patients that are appropriate for advanced therapies," Russell says. "But in the interim, we can provide care here at WakeMed while waiting to access those therapies."
Expanding the Pool of Available Organs
The availability of hearts acquired using the DCD protocol is already expanding the pool of available organs, says Adam DeVore, MD, MHS, medical director of the Duke Transplant Program.
"What is most significant is the pace of growth in our DCD program and the potential long-term impact to heart transplantation overall," DeVore says. "By completing 50 procedures in just 16 months, we are demonstrating the significance of this program and its impact by making more hearts available."
Jacob N. Schroder, MD, surgical director of the Duke Transplant Program, procured the heart for the 50th procedure; cardiothoracic surgeon Benjamin S. Bryner, MD, MS, performed the transplant. A 2019 Duke Heart analysis projected a 30% increase in hearts as a result of the perfusion technology used in the trial. "The estimate was ambitious," DeVore says, "but it's bearing fruit. And the potential growth will increase as organ procurement organizations become more involved."