Duke Surgeon Assesses Mitral Valve Repair in Follow-Up Study
Published
October 25, 2016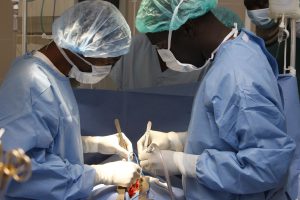 Duke Chief of Cardiothoracic Surgery Peter K. Smith, MD, was co–first author of a follow-up report from a randomized trial examining the outcomes of ischemic mitral regurgitation when mitral valve repair is performed with coronary artery bypass grafting (CABG).
Published in the May 2016 issue of the New England Journal of Medicine, the trial results conclude that the addition of mitral valve repair in individuals undergoing CABG did not lead to significant differences in left ventricular reverse remodeling 2 years after the procedure when compared with CABG alone.
The multicenter trial involved 301 patients randomized to undergo CABG alone (n = 151) or CABG plus mitral valve repair (n = 150).
The end point of the original trial was the degree of left ventricular reverse remodeling as measured by the left ventricular end-systolic volume index on transthoracic echocardiography 1 year following randomization.
"Mitral valve repair provided a more durable correction of mitral regurgitation but did not significantly improve survival or reduce overall adverse events or readmissions," the authors conclude.
They also report that the combined procedure resulted in increased serious neurologic adverse events and supraventricular arrhythmias during the first year of treatment.
Following myocardial infarction, approximately 10% of patients develop moderate ischemic mitral regurgitation, a condition associated with reduced survival rates. "Because patients with ischemic mitral regurgitation have multivessel coronary artery disease requiring revascularization, surgeons have to consider whether to add mitral valve repair to CABG," the authors write.
Thoracic surgeons are divided about the management of moderate ischemic mitral regurgitation at the time of CABG. Some specialists support revascularization alone for moderate regurgitation because, as the article notes, "improvements in regional and global left ventricular function and geometry after CABG can substantially reduce the degree of mitral regurgitation."
Others advocate restrictive mitral annuloplasty repair at the time of CABG to reduce mitral leakage, which can help reduce reverse modeling and lead to a decreased risk of heart failure.
However, the addition of mitral valve repair to CABG requires open-heart exposure with an increased duration of aortic cross-clamping and cardiopulmonary bypass, which can increase perioperative risk.