Duke Physician Assumes Role as New President of ACOG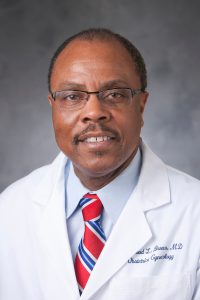 Haywood Brown, MD
Duke obstetrician-gynecologist Haywood Brown, MD, became the 68th president of the American Congress of Obstetricians and Gynecologists (ACOG) at the group's annual meeting in San Diego, CA. Brown, who served as the chair of the Department of Obstetrics and Gynecology at Duke for more than 10 years, follows his 3 department chair predecessors, all of whom held the position.
Brown's first major initiative in his new role will focus on addressing health disparities for women in rural areas. Such efforts are critical because, although studies show that the risk of infant and maternal mortality increases when infants from high-risk pregnancies are born outside of tertiary centers, some states have few pediatric specialists and no tertiary centers for pregnant women. For many women living in nonmetropolitan areas, the time and travel required to receive specialized care are prohibitive.
One way to overcome these obstacles to access, Brown says, is to increase coordination and collaboration among women's health care centers. He says the recent classification of the maternal levels of care can facilitate such partnership.
In a perspective piece in the April 6, 2017, issue of the
New England Journal of Medicine
, Brown recommends that hospitals create Maternal Health Compacts to link lower-resource hospitals with tertiary care facilities.
"On occasion, smaller hospitals need to transfer a sick mother to a facility better capable of caring for the mother's obstetric needs. So, together with the Society for Maternal-Fetal Medicine, ACOG developed guidelines on the levels of maternal care to help identify those women who need a transfer to a higher-level facility in a more timely manner to prevent maternal morbidity and mortality."
He adds that the success of efforts to reduce health disparities requires that tertiary centers take the lead on coordinating interfacility transport and providing training and education to hospitals defined by the new guidelines as lower-level maternal care facilities. Such a system will also depend on the implementation of a robust telehealth program for obstetrics—again facilitated by higher-level facilities.
For his second major initiative, Brown hopes to aid health care professionals in educating patients on the relationship between pregnancy and long-term health as well as to modify some of the best practices surrounding obstetric care. For example, women need to be aware of the link between conditions such as gestational diabetes, preterm birth, and preeclampsia and their increased risk of developing cardiovascular disease later in life.
He also proposes that women have 2 postpartum visits, with their initial visit at 2 to 3 weeks, rather than 6 weeks, to enable earlier intervention for contraceptive management and problems such as postpartum depression and difficulty breastfeeding. Then, the second visit before 12 weeks postpartum can be used to discuss the woman's overall health and help her develop strategies to promote her immediate as well as her long-term health.
Through these 2 initiatives, Brown hopes to renew ACOG's commitment to what he calls "glocal" health. "Let's embrace our local communities and make sure we take care of our patients," he says. "I want us to practice the best evidence-based medicine that we can for the diverse population of women throughout the United States and send an example for health care around the globe."
SaveSave